2019 LOOK AHEAD: TOURISM & HOSPITALITY
With Millennial Support, Distillers Craft Their Plan
Sunday, January 6, 2019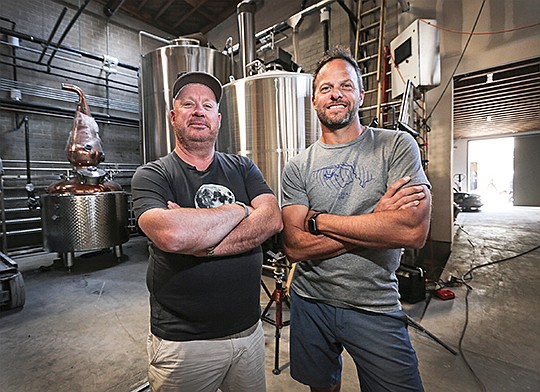 A search on the San Diego Distillers Guild website indicates there are approximately 15 craft distilleries as members in the county. According to the American Craft Spirits Association 2018 annual report, California leads in the number of craft spirits distilleries in the country with 156, up from 148 the year prior.
What's driving craft distilleries to mushroom overall is millennials. But, what's pushing the growth in the region is relatively new legislation that has loosened restrictions on distillers, including allowing them to sell products straight to consumers and an increase in the total volume distillers can produce a year.
The California Craft Distillers Act of 2015 was the first law to define craft distilleries operating in the state as only those producing up to 100,000 gallons of distilled spirits annually. Authored by Assemblyman Marc Levine, D-San Rafael, the law allows distilleries to sell up to three 750 milliliter bottles per customer per day on site; it allows license holders to open a bar or a restaurant on site; and have tastings where cocktails and mixed drinks can be made. In September, a Senate bill expanded that capacity to 150,000 gallons per year.
Additionally, the Craft Beverage Modernization and Tax Reform Act of 2017, which became effective Jan. 1, 2018, lowered the federal excise tax on beer and distilled spirits.
Carl Winston, director of the L. Robert Payne School of Hospitality & Tourism Management at San Diego State University, says, much like during the craft beer explosion in San Diego, politicians see the benefit in the tax revenue craft distilleries can bring.
Winston also credits the popularity of spirits to the No. 4 economic driver for the city, agriculture. This sector provides a supply of ingredients for distilleries to experiment with, finding new, interesting flavors. Because millennials are more inclined to try more out-of-the-box items, this works well for San Diego's consumers.
Steve Kuftinec, co-founder of East Village's Storyhouse Spirits, a restaurant, bar, private event space and distillery that produces vodka, gin, bourbon and rye, says millennials are drawn to the authentic aspect of locally-grown craft spirits.
According to a 2018 millennial drinking trends report by BreakThru Beverage Group, a wine, spirits and beer distributor headquartered in New York, 41 percent of millennials prefer craft spirits rather than beer, the latter coming in at 39 percent. Data indicates craft distilleries are expected to increase production by 37 percent nationally over the next five years.