2019 LOOK AHEAD: HEALTH CARE
Halozyme Expects Key Data On Cancer Drug
Sunday, January 6, 2019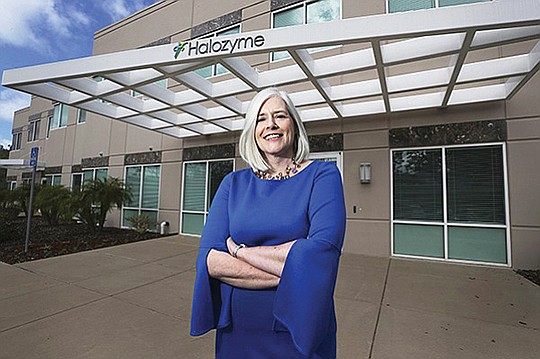 San Diego's Halozyme is headed for an inflection point.
In the second half of the year, analysts expect key clinical trial data to be released on Halozyme's pegph20 in metastatic pancreas cancer. The therapeutic candidate is in a late-stage trial, or known as phase 3.
"Our investors have articulated that what will transform the potential of Halozyme is success in pancreas cancer," CEO Helen Torley told the San Diego Business Journal in March.
In 2017, Halozyme reported positive phase 2 results in pancreas cancer. But along the way pegph20 has hit bumps, including a U.S. Food and Drug Administration clinical hold in 2014 that was lifted after several weeks.
That was after the company found no conclusive cause for blood clot events that caused the hold, and a restarted study excluded patients at higher risk of the health issue.
In the event of disappointing phase 3 results, Halozyme has a backstop, analysts say. The company's increasingly popular enhanze platform delivers drugs under the skin, intended to do away with lengthy infusions.
With pharmaceuticals such as Roche licensing the technology, Halozyme forecasts nearly $1 billion in enhanze royalty revenue by 2027.
As of this fall, Halozyme had 270 employees.