NuVasive Shakes Up Organizational Structure
Thursday, January 3, 2019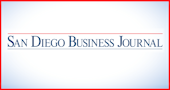 San Diego medtech NuVasive cut two vice president positions and shifted the responsibilities of other management as part of a reorganization that the company announced Jan. 3.
The company eliminated the position executive vice president of people and culture, and cut the role executive vice president of global process transformation. Pete Leddy held the former job and Stephen Rozow the latter.
Changes in the leadership team, who report to CEO Christopher Barry, include:
• Matt Link will continue as president in an expanded role to include direct management of clinical services and global logistics;
• Jim Garrett, the chief compliance officer and leader of global risk and integrity, will now also oversee business and quality systems, including GRI, regulatory affairs/quality affairs, information technology, and environmental health and safety;
• Lucas Vitale was named chief human resources officer, and most recently served as vice president, human resources and sales training at NuVasive; and
• Nate Sisitsky will continue as general counsel and corporate secretary, and lead the company's legal function as well as the NuVasive Spine Foundation. In addition, he will also oversee the company's real estate and facilities function.
Other roles reporting to Barry:
• Dale Wolf will continue to oversee the company's manufacturing efforts;
• Raj Asarpota will continue as executive vice president and chief financial officer, and lead the company's finance, accounting, internal audit and tax functions; and
• Suzanne Hatcher will continue to lead the company's internal and external affairs functions, including investor relations, public relations and internal communications.
"After assessing the Company over the past two months as CEO, it is clear that NuVasive benefits from significant talent across the organization. Our new structure will enable us to better capitalize on this talent by fostering cross-functional collaboration, consolidating complementary functions and increasing accountability," said Barry.
Barry started as CEO in November, replacing Gregory Lucier, who remains as board chairman. That month analysts told the San Diego Business Journal that Barry looks to bring fresh perspective to a company that's nonetheless stumbled on execution.