Roswell Biotechnologies Lands $32 Million Series A Round
Wednesday, January 2, 2019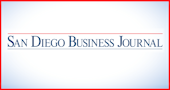 Roswell Biotechnologies has taken in a $32 million series A round in a bid to bring down the cost of DNA sequencing through what the company calls a molecular electronics platform.

The company's process integrates molecules into electronic circuits. It created a nanoscale molecular electronic sensor for reading DNA, which can be deployed on what's called a CMOS (complementary metal–oxide–semiconductor) chip.
"The capital raised will fuel the company's R&D, expanding our operations to full strength for our programs in sensors, chips, instruments and applications. We are on an aggressive path to realizing the $100, 1-hour, clinical grade genome, to unlock the promise of precision medicine and usher in the DNA economy," said Roswell President and CEO Paul Mola in a news release.
Precision medicine, all the rage these days, seeks to tailor treatment to an individual based on genetic makeup.

Roswell is based in San Diego. The company's DNA technologies are targeting research, drug discovery and diagnostic markets.