Tour De Force Of Creativity Animates Viasat's HQ Expansion
Tuesday, January 1, 2019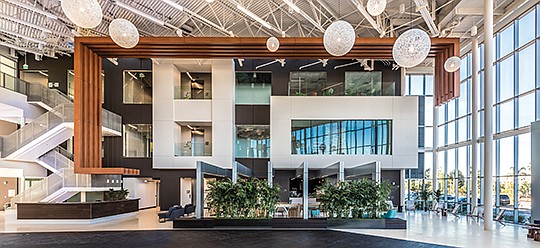 Mark Dankberg said he wanted to create a place where people like to work when Viasat expanded its Carlsbad corporate headquarters.
"We want a casual, engaging work environment," said Dankberg, who co-founded the international communications firm in 1986.
That he got, with amenities like a rope bridge inside one of the new buildings and a conference room with golf putting greens in the middle.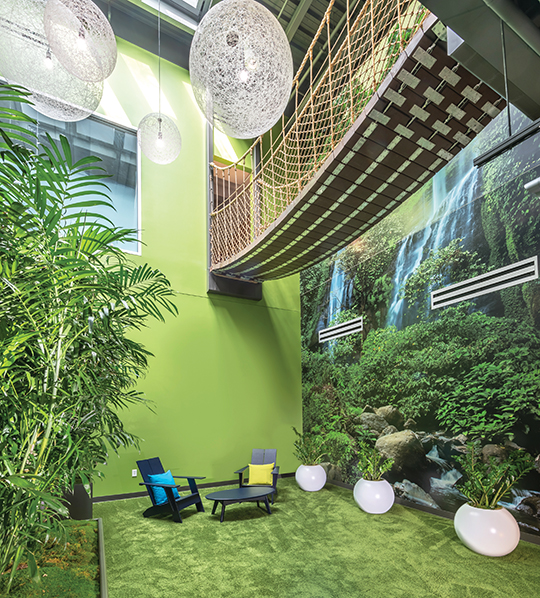 VIASAT INC.
CEO: Mark Dankberg
Revenue: $1.59 billion in fiscal 2018; $1.56 billion in fiscal 2017
Net loss: $67.3 million in fiscal 2018; net income of $23.8 million in fiscal 2017
No. of local employees: 2,700
Headquarters: Carlsbad
Year founded: 1986
Stock symbol and exchange: VSAT on Nasdaq
Company description: Broadband services and technologies company.
Inspiration
"We like out-of-the-box thinking," Dankberg said. "We like people to apply that to what we do, the way we think, the way we work and our approach to business."
Viasat is in the process of building what it has designated as its East Campus in Carlsbad on nine acres across the street from its existing campus at 6155 El Camino Real. The company declined to say how much it spent on the expansion.
Ultimately, the East Campus will cover 23 acres.
Already finished is a 90,054 square-foot building that will become the main structure in Viasat's Carlsbad operations, an 89,010 square-foot sister building and a 25,608 square-foot café and conference center.
Still under construction are two other East Campus buildings measuring 98,345 square feet and 75,292 square feet.
New Contracts, New Space
Combined with Viasat's existing buildings, the company will have more than a million square feet of space on El Camino Real.
The company has been ramping up its workforce after winning several new government and private company contracts.
Viasat reported record orders of $739 million in the most recent quarter, up 92 percent over the same period in 2017.
Contract awards were especially strong in government systems at $450.7 million, up from $182.6 million a year ago.
Among recent activity, Viasat in December entered an agreement with Sandler Partners that will let Sandler resell the Viasat's satellite internet service to business customers and also reported in December that the U.S. Army has certified one of the company's modems for use on the military's Wideband Global SATCOM network.
More Than 2,500 Employees
More than 2,500 people work at Viasat on the Carlsbad campuses, evenly split between campuses with El Camino Real in the middle.
"The East Campus expansion accommodates growth across our business sectors, and gives us future room to increase the team," said Bob Rota, vice president of facilities and security.
"It was important for us to build a contiguous campus that would enable employees to be within walking distance to our other buildings."
In an era when many companies are going for wide-open office space where no one has their own office, Viasat has adopted a sort of hybrid in its new buildings.
Personal Space Preferences
"We've really gotten input from the employees," Rota said. "Each employee's workspace is determined by their group. For example, some engineering groups prefer lab environments or open spaces. Other groups prefer offices with collaborative spaces."
Where there are offices, they open up into common areas or connect to conference rooms, each of which is a little bit different and a far cry from the traditional long table surrounded with chairs arranged on each side.
Pointing recently to the sofas or comfy chairs where workers can lounge and work on laptops in front in sunny rooms with large windows overlooking an open courtyard, Rota asked, "Who says you have to sit around a conference table?"
The lobby — the "face" of Viasat to visitors — in the new building is about 50-feet tall with floor-to-ceiling windows and lighted glass globes suspended from the ceiling to draw the attention of passers-by.
"We wanted to make the people a bit curious about the company and what we do," Rota said. "This was very purposeful. At night, it certainly makes a statement."
Off to the side of the lobby is a 500 square-foot "candidate care center" where people visiting the company or applying for work can store their luggage.
The room also is used for job interviews.
Indoor-Outdoor Settings
A faux boardwalk leads from the entrance of the building, through the lobby and across a courtyard to the second new building to be completed.
The courtyard is one of several green areas on campus, along with space that's been set aside for displays of company projects.
More than 11,000 trees and shrubs were planted throughout as part of the expansion, Rota said, and some of the trees were planted about 18 months ahead of time so they'd be more mature when moved on campus
"The line between indoor and outdoor is very blurred," Rota said.
A second 85,000 square foot, single-story building on the eastern side of the new campus has been designed so a second story can be added when Viasat needs more space.
Elevator shafts have been built in, and there's a staircase that leads nowhere for now.
The East Campus also has 70-electric-vehicle charging stations — giving Viasat a total of 100 over its entire corporate headquarters, Rota said.
Rooftop solar panels on the new buildings will generate 722 megawatts of electricity annually.
A Parking Garage
Along with the new office buildings, lab space and conference center, the expansion included a 585-space parking garage that will be hidden from view by rows of bamboo once they mature.
Shielding the garage from sight was a request from Dankberg.
"He talked about walking past the parking structure at Disneyland and not being able to see the parking structure," Rota said.
Looking ahead, Viasat has set aside seven acres of land for further expansion of the East Campus as needed.
"We're still brainstorming on what we're going to build," Rota said.