WITH TWO HOTELS UNDER CONSTRUCTION, DOWNTOWN OCEANSIDE CONTINUES TO DRAW BUSINESSES THAT ARE RESHAPING THE AREA
Tide pull: Oceanside Development
Wednesday, February 27, 2019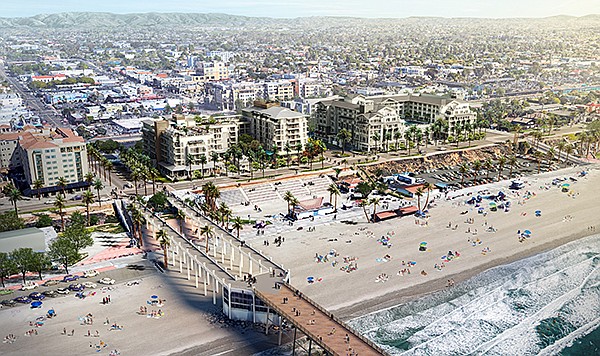 When S.D. Malkin Properties began its quest to build a pair of beachfront resort hotels in downtown Oceanside more than a decade ago, much of the surrounding area was a collection of vacant lots used for parking.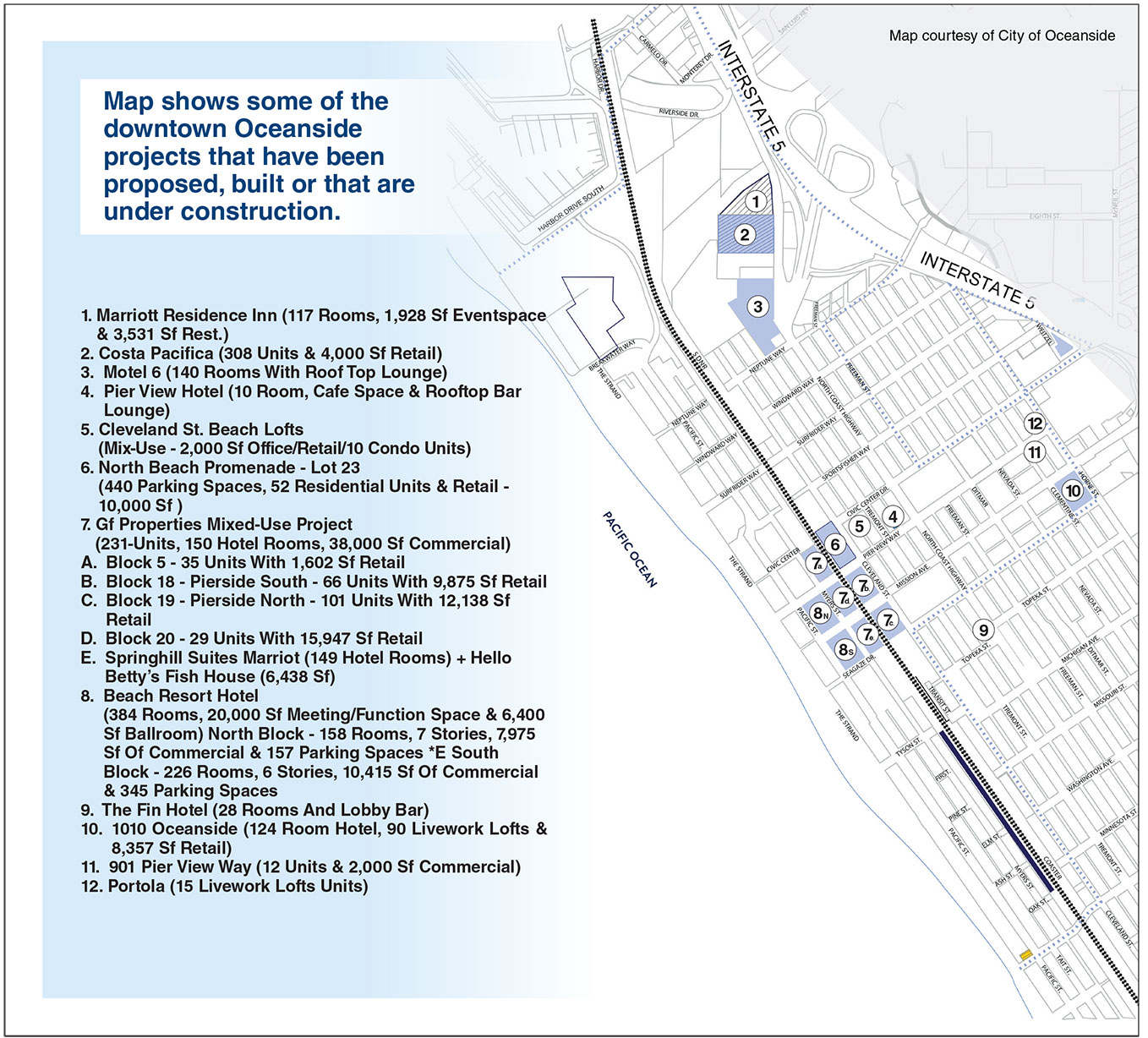 Construction at long last has started on the more than $200 million resort hotels, and downtown Oceanside is undergoing a renaissance of sorts with more than a dozen projects planned, finished or under construction and a plethora of new residential buildings, restaurants and shops springing up downtown and along Coast Highway.
"With the apartments and the hotels and restaurants, it brings a lot of interest here as the next up-and-coming thing," said Tracey Bohlen, Oceanside economic development manager. "There's a lot going on."
Jerome Cohen, senior vice president of S.D. Malkin Properties said, "In general, it's an exciting time for Oceanside."
Downtown development slowed when redevelopment agencies were abolished throughout California in 2012.
'Tons of New…'
"In the last five years, it's accelerated," Cohen said. "Tons of new restaurants, new residential buildings have gone up, breweries, cafes, retail. It's coming together nicely."
Among the larger downtown projects, planned, built or under construction are a 117-room Marriott Residence Inn, Pierside South and Pierside North multifamily and retail projects by GF Properties, Cleveland Street Beach Lofts, and the 149-room Springhill Suites.
"I used to say all I wanted was a downtown that I would be proud to take my family around and take them out for a nice dinner. I can finally say that's what we have and it's only going to get better," said Rick Wright, executive director of MainStreet Oceanside which represents downtown merchants and other businesses.
'Wonderful Renaissance'
"We're enjoying this wonderful renaissance of young chefs opening new restaurants downtown and some of them have been very successful in opening second restaurants," Wright said. "I think we've gone from like 30 restaurants to 70 restaurants over the last four or five years."
Several breweries and tasting rooms also have popped up in or near downtown.
As listed by the city, they include Surfside Tap Room, Stone Brewing Co., Barrel Republic, Northern Pine Brewery, Breakwater Brewing, Local Tap House and Bagby Beer Co.
"There have been substantial changes to our downtown area over the past decade, but none stand out to me more than the thriving dining scene that has taken hold in our downtown and coastal areas," said Scott Ashton, CEO of the Oceanside Chamber of Commerce. "Now, more than ever, coastal Oceanside is known for great restaurants, breweries and coffee houses."
New restaurants include Masters Kitchen and Cocktail, Exhale Oceanside, Swamis Café, Benito's Pizza Café, and That Boy Good Southern BBQ.
"We like to talk about Oceanside as an authentic beach community, but we certainly have a lot of culinary attractions," said Assistant City Manager Deanna Lorson. "I've been here for three years and in just that tenure, I've seen a lot of great change."
Ashton predicted that more mixed use developments will be built downtown, adding that "as our cities are pressured to meet the housing needs of our local workforce, I think it is inevitable that we will see more mixed use development along the coastal corridor, especially due to its proximity to transportation services."
A transit center which connects bus, rail and Sprinter light rail service is at the southern edge of downtown Oceanside.
By far the project with the biggest impact in downtown Oceanside are the twin hotels S.D. Malkin is building on a 2.8 acre site at the foot of Mission Avenue between North Pacific and Myers streets.
"That's a milestone," Bohlen said. "That's our big, big thing that's happening."
$155M Construction Loan
The final piece for construction to start on the resort hotels fell into place in January when S.D. Malkin secured a $155 million construction loan from Bank OZK. The general contractor is DPR Construction and Delawie Architects of San Diego designed the project.
The development consists of two hotels — the 161-room Joie de Vivre Boutique Hotel on the north block and the 226-room Destination Hotels resort on the south block.
The seven-story Joie de Vivre will include a roof-top pool and bar, a luxury restaurant and 3,000 square feet of retail shops.
The six-story Destination Hotel will include a restaurant, bar and lounge, library, spa, and more than 20,000 square feet of meeting rooms and event rooms and will be topped off with a 9,000 square-foot elevated deck.
'Top Gun House'
The project also will include renovation of the Graves House, also known as the "Top Gun house" for the movie that was partly filmed in the house.
The building will be moved close to the Oceanside pier with plans to turn it into a gourmet ice cream shop or something similar that will be tied in to the resort hotels.
Both hotels will feature art work and programming in coordination with the Oceanside Museum of Art.
"It's an extraordinary contemporary art museum just five blocks away from us. It's a great resource," said Cohen, the SVP of S.D. Malkin Properties. "They'll help us put some real special local artistic content in the hotel. We'll also be doing special programming for our guests at the museum."
Cohen said the Oceanside project is "the largest in the last 20 years" along the Oceanfront in San Diego County.
"There's been a lot on the bay and harbor developed, but an oceanfront resort, I don' think there's been anything of this scale since the Del (Hotel del Coronado)," Cohen said.
City officials are betting that the resort hotels will spark more interest in downtown.
"It will bring additional investment and it will introduce more people to Oceanside," said Lorson, the assistant city manager.
Cohen said he was always confident that downtown Oceanside would flourish.
"I certainly didn't see the whole culinary experience along Coast Highway and all those restaurants popping up," Cohen said.
In addition to the resort hotels, S.D. Malkin's other projects include the Hilton Gaslamp and Cable Building Lofts in San Diego.
Real estate reporter Ray Huard may be reached at rhuard@sdbj.com or 858-277-8904.
See More: Plan Is for Former Hospital Site to Become Residential Asset