San Diego-based TekWorks sells to Canadian Integrated Systems Giant
Wednesday, February 27, 2019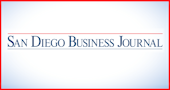 San Diego-based TekWorks Inc. sold to British Columbia-based tech company Paladin Technologies for an undisclosed amount. The two organizations merged Jan. 10, giving Paladin an entry into the San Diego market, the company said in a statement.
"This transaction is about building our U.S. platform and we are delighted that all TekWorks team members are committed to our merger," Paladin Technologies President Ted Reid said in a news release.
TekWorks offers data center, network cabling and fiber optics services. It has been in the San Diego market for 19 years and employs more than 200 people.
Paladin Technologies offers security and networking services. It employs more than 13,000.
"As we reviewed our strategic options, it was clear that merging with Paladin Technologies was the right fit not only for our people, but also our clients," TekWorks President William Bourgeois said in a news release. "As a private entity, we have benefitted from being able to make long term investments for continuous improvement in our processes and this will no doubt continue after the merger with Paladin Technologies. This move is all about quality and building on our capability to service our clients even better."
TekWorks will retain its brand and offices as a subsidiary of Paladin Technologies.