EXECUTIVE VICE PRESIDENT, HUMAN RESOURCES, QUALCOMM INC.
SD 500: Michelle Sterling
Monday, February 25, 2019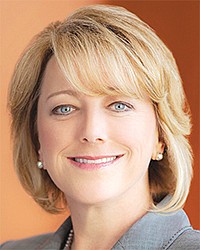 Michelle Sterling
Executive Vice President, Human Resources, Qualcomm Inc.
SD 500 recap: Michelle Sterling has overseen Qualcomm's human resource functions and served on the executive committee since 2015. She was honored in October as one of the top 50 women in technology. Prior to joining Qualcomm in 1994, she served in various HR roles at ABB Traction and Manpower, both in the New York area. She is on the board of Girl Scouts of America and previously she served on the boards of Serving Seniors; Occupational Training Services (OTS) and the San Diego Workforce Partnership.
ALMA MATER
University of Redlands