Progenity Adds Four Board Members
Sunday, February 24, 2019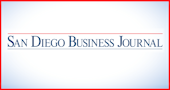 San Diego-based Progenity appointed Jeffrey Alter, John Bigalke, Samuel Nussbaum and Lynne Powel to its board, it was announced Feb. 21.
That's as the company advances a pipeline of genomic/epigenomic, proteomic and microbiomic platforms. They're aimed at prenatal, perinatal and gastrointestinal health care.

"These accomplished individuals, with their combined experience in finance, risk management, managed care, business and clinical strategy, and policy will be a valuable resource for Progenity in advancing future products into clinical practice and driving its mission to make healthcare more precise and personal," said in a statement Harry Stylli, CEO, board chairman and founder of Progenity.
Alter is the president of Arcturus One Consulting; Bigalke is the CEO of Second Half Healthcare Advisers; Nussbaum is a strategic consultant for EBG Advisors; and Powell is senior vice president and chief commercial officer at BioCryst Pharmaceuticals.