Kyriba Moves HQ Back to San Diego
Sunday, February 24, 2019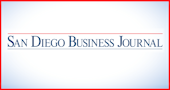 Financial software company Kyriba Corp. is moving its headquarters back to San Diego. The company has its roots in America's Finest City; It was founded in 2000 by CEO Jean-Luc Robert. It offers a SaaS solution to help companies manage their overseas accounts.
After years of rapid growth, Kyriba moved its offices to New York's financial district in 2008, bringing it closer to some of its clients. Now, the company is returning back home, where it will host more than 120 employees at its San Diego headquarters. Kyriba employs a total of 600 employees worldwide at its 12 offices, from Paris to Dubai to Tokyo.
Kyriba said it hit $110 million in revenue last year, and is planning for 40 percent growth this year. Assisting in that effort will be the 229 new clients the company signed last year, including Peloton, Eastman Chemical and Palo Alto Networks. In a news release, Kyriba said it has more than 2,000 clients worldwide.
To date, the company has raised more than $100 million in funding, including a $45 million series E round by Sumeru Equity Partners in 2017.
"We are grateful to our entire community – customers, partners, employees – for helping us achieve these results, and for pushing us to innovate faster and smarter on behalf of senior finance executives looking to unlock growth and opportunity," Robert said in a news release. "We are excited to continue this trend in 2019 and beyond."
Kyriba is also growing its C-suite. The company hired a chief marketing officer, Kevin Bryla, who previously worked as CMO for payroll software company ADP. The company also hired chief people officer, Tina Figueroa, who previously held that role for mobile advertising platform AdColony.