Aequor Sells NASA and Others on Nontoxic Chemicals
Sunday, February 24, 2019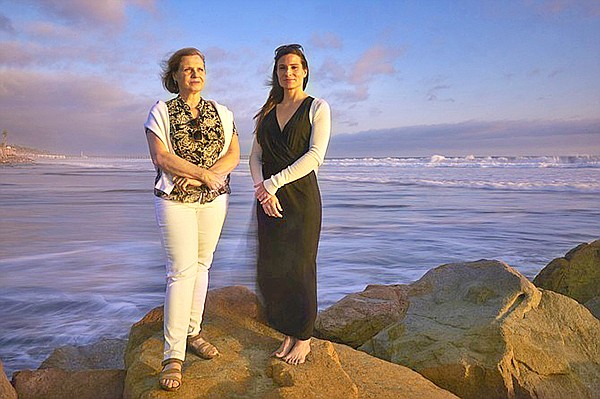 AEQUOR
CEO: Marilyn Bruno
Funding raised to date: $1 million
No. of local employees: Two
Investors: Four unnamed angel investors
Headquarters: Torrey Pines
Year founded: 2006
Company description: Aequor produces nontoxic chemicals that prevent the formation of biofilm. The company currently consults with industrial water systems, and is working with several government agencies, including NASA.
A San Diego startup hopes to bring water-treating chemicals found in the ocean to space. Beyond that, Aequor has even broader ambitions, from reducing the use of toxic biocides in everyday products to treating superbugs.
It all started when Founder and Chief Scientific Officer Cynthia Burzell made her first big discovery in 2002. While getting her doctorate in microbiology in Grenada, she noticed some water surfaces were free of pond scum, while others were covered in a layer of grime. She hypothesized something was preventing the bacteria from collecting.
"I was looking for a solution to contamination, and looked to see how the problem was solved in nature," Burzell said. "I noticed certain marine surfaces did not have slime or other organisms sticking to them."
She discovered 17 new marine bacteria, including an entire genus, which she found prevent bacteria and fungi from forming biofilm. Biofilms are created when several bacteria group together, forming a sticky, protective coating, and are found in everything from plaque on teeth to slime sticking on pipes. Biofilms are also associated with antibiotic-resistant infections, such as MRSA.
At the same time, Burzell's mother, Marilyn Bruno, was working for the U.S. Department of State as a foreign service officer. She was promoting the United Nations' antifouling convention, which banned the use of a highly toxic biocide that was painted to the underwater hull of ships to prevent the buildup of barnacles and slime. Over Christmas, Bruno and Burzell found out they were working on the same problem, from two different angles.
"It's a funny thing. When Cynthia was 18, I said 'go forth and do whatever you like.' We didn't know we would work together," Bruno said. "We opened up the lab, and started raising money for the patents and research to isolate the most active chemicals and synthesize them."
The mother-daughter duo incorporated Aequor in 2006. Since then, the company has raised more than $1 million from angel investors, family and friends, and patented more than 70 synthetic chemicals that act similarly to the "good bacteria" Burzell first discovered. The company is currently located in JLABS, where it is focused on water treatment projects, including one for its first customer: NASA.
In 2016, Aequor won a contract with NASA's iTech program, to test the use of its products in life-support systems. Specifically, it's being studied for its potential use on the International Space Station, where all water is recycled and taken through a filtration process in which silver is used as an antimicrobial. But some bacteria are metal resistant.
"They needed something with a low toxicity profile that works with bacteria that are silver-resistant" Burzell said. "They did say keeping water clean is critical to making it to Mars and long-duration space travel."
Aequor's chemicals aren't in orbit, yet. The company is still in a large-scale pilot project with NASA.
Space ambitions aside, Aequor is currently working on pilot projects for water contamination.
"Any AC system or cooling power, those are low-hanging fruit that we can go after right now," Bruno said.
The company is also working in consulting for several large, unnamed organizations. It hopes to begin selling its products at a commercial scale, first. Twenty-five of them are U.S. Environmental Protection Agency approved.
Aequor's subsidiary in London also won a $50,000 grant through the European Union's Horizon 2020 program to develop a treatment for MRSA.
The company currently has contract chemists, but hopes to build up its local staff with more funding.
"The next step is to become the corporation we need to be to support our ambitious program," Bruno said.
Correction: Aequor is a member of the JLabs incubator, but JLabs is not an investor in the company.