Viking's Stock Climbs Following Competitor's NASH Results
Friday, February 22, 2019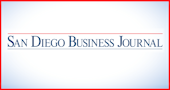 Viking Therapeutics' stock has climbed after another company's disappointing results in the first late-stage clinical trial of a fatty liver disease.
San Diego-based Viking's drug candidate is viewed as a top competitor in NASH, which is expected by next year to become the leading cause of liver transplants. A drug to treat NASH has yet to be approved.
On Feb. 12, Viking's stock rose 10 percent to $8.97 a share — and further inched up over the next six days — after Gilead's drug failed to improve liver fibrosis, or scarring, versus a placebo in a phase 3 trial.
Gilead's stock fell on the news but has since rebounded, likely because analyst expectations weren't high for the trial. Analysts are more interested in a late-stage data readout of Gilead's drug — expected soon — in patients with less severe cases of NASH.
Still, in the wake of the clinical trial failure, the stocks of Viking and competitor Madrigal Pharmaceuticals increased.
Also in the NASH mix: Intercept, which has a phase 3 clinical trial poised to be released in quarter one.
Viking lags behind others in NASH. But in phase 2 trial results in September, Viking's drug reduced liver fat and cholesterol, suggesting a broad benefit.
The company is banking on being better, not first. Time will tell: Viking is planning a larger clinical trial.
Despite the competition in NASH, there's room for multiple players. The market is forecast to hit $20 billion to $35 billion, a byproduct of increasing rates of obesity.
And, patients will likely need to take several drugs to treat the disease.
Other than Viking, NASH drugmakers in San Diego include Cirius Therapeutics, Metacrine, Conatus and MediciNova.
Conatus and MediciNova are public companies as well, but their stocks didn't move much following the Gilead clinical trial results.