Commercial Real Estate: North County Campus Coming to Life, Billed as Model for Disabled Services
Wednesday, February 20, 2019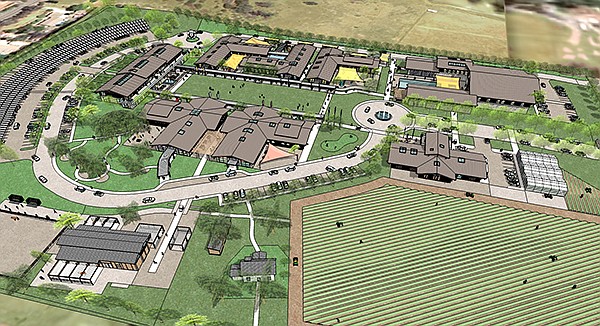 A 20-acre site in what was once farmland in the Twin Oaks Valley Region of San Marcos is being transformed into a campus for what will become a model development for providing services to the developmentally disabled.
TERI (Training Education Research Innovation) has partnered with HomeAid, a national company based in Irvine that provides development services to nonprofit agencies.
HomeAid has taken over as project manager in completing construction of the $45 million to $55 million campus, with Prave Construction as the general contractor, Enter Arc Inc. as project architect and Wynn-Smith Landscape Architecture Inc. as the landscape architect.
"We work with nonprofits to help them build or renovate their physical properties at below market rates," said Alexis Parker, HomeAid executive director. "We're able to get discounts on professional labor, material and all sorts of great things."
A $13.6 million equestrian center was built on the site in 2012 for TERI by Grant Construction with Consultants Collaborative Inc. as project manager.
The new campus will include a vocational building, performing arts and theater building, three classroom buildings, a culinary arts and fitness center with a gym and pool, and administrative offices.
"This campus is going to be a model of care for these developmentally disabled folks that will be able to be replicated anywhere else in the United States and the world," Parker said.
The project also will include the $350,000 restoration of the historic Merriam House, built around 1875 by Major Gustavus French Merriam.
"Once the restoration is finished, it will be open to the public as a museum," Parker said.
Preliminary site grading is under way, with construction of the vocational building expected to be finished in early 2020.
Completion of the full campus depends on TERI's success at fundraising, said CEO Cheryl Kilmer.
"It could be done in two-and-a-half years if we continue to be successful in fundraising," she said.
In addition to the buildings, the campus will include an organic farm, Kilmer said.
The campus is designed to have a ranch-like look reminiscent of its origins as a country farm, with riding areas, trails and play areas.
"It would fit in with the community character and it's warm and attractive," Kilmer said.
Founded by Kilmer in her home 39 years ago, TERI serves about 850 people in four industrial buildings in Oceanside and San Marcos. The agency also has 13 residential homes.
"We're running out of space," Kilmer said. "We have waiting lists for every program that we operate."