San Diego Startup Portfolium Sold to Education Software Company
Tuesday, February 19, 2019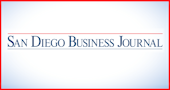 Sometimes, a resume doesn't tell the whole story. That's why three San Diego entrepreneurs built Portfolium, a platform to help students build digital portfolios of their work. Portfolium also provides student assessments and job-matching features.
The company sold to Instructure Inc. (NYSE: INST), a Salt Lake City-based SaaS company that developed a platform for teachers, on Feb. 19. The deal is expected to close within seven days.
"Working with Portfolium advances our mission since it enables us to help people move from the classroom to the workplace," Instructure CEO Dan Goldsmith said in a news release. "Portfolium has been a great partner of ours. With their team, and by adding their student success capabilities built on the leading learner network, we will together provide more value to both current and new customers."
Since it was founded in 2014, Portfolium had expanded to more than 3,600 institutions, including universities in the UC System, and had raised more than $7 million in capital.
"We created Portfolium to connect learning with opportunity by enabling students to recognize, showcase, and articulate the skills and competencies they acquire along their academic journeys," Portfolium founder and CEO Adam Markowitz said in a news release. "We've been a proud Instructure partner for years, and are excited to expand on our vision to support lifelong learning and development as part of the Instructure family."