Qualcomm Rolls Out New 5G Modem
Tuesday, February 19, 2019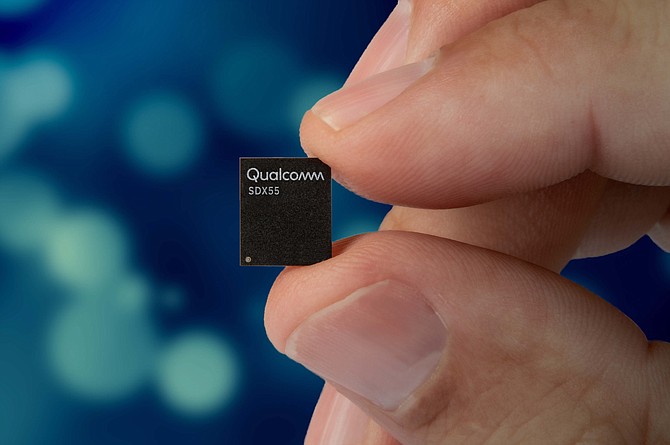 As device-makers race to unveil the first 5G phones, Qualcomm Inc. is already building out the next iteration of its 5G chipsets. On Feb. 19, the San Diego-based chipmaker announced a new 5G New Radio (NR) modem — the second it has developed for the next generation of wireless technology.
Qualcomm released its first 5G modem in 2016, the Snapdragon X50. At the Consumer Electronics Show, Qualcomm said more than 30 5G devices — primarily smartphones — are expected to use the modem this year.
Its newest modem, the Snapdragon X55, expands on that work, supporting 5G in everything from laptops to connected cars. Qualcomm expects the new modem to appear in commercial devices in late 2019.
"With significant evolution in capabilities and performance, our second generation commercial 5G modem is a true testament to the maturity and leadership of our 5G technology," Qualcomm President Cristiano Amon said in a news release. "We expect our 5G platform to accelerate 5G commercial momentum and power virtually all 5G launches in 2019 while significantly expanding the global 5G rollout footprint."

The X55 supports spectrum sharing between 4G and 5G, making it useful as carriers continue building out their 5G networks. The chip also supports lowband spectrum below 6GHz, and millimeter-wave spectrum, high-frequency bands that are good for carrying large amounts of data over short distances.
Previously, millimeter-wave spectrum was thought of as impossible to use for cellular technology, because it could only travel short distances, and could easily be blocked by buildings and trees. One of the key challenges Qualcomm solved in designing the chips was to make that spectrum usable in a mobile setting, said Nitin Dhiman, senior manager of product marketing for Qualcomm.
"A lot of those challenges had to be solved to make this possible," Dhiman said. "The past three decades of innovation that Qualcomm has been doing in cellular and wireless communications, everything we've learned about cellular technologies is built into this one chip."
Qualcomm is also building out other components for 5G devices. The company unveiled a new RF front-end solution for 5G devices on Tuesday, designed to work with its new modem. It includes a new 5G antenna module, which adds support for 26GHz millimeter-wave spectrum, as well as a new 100MHz envelope tracking solution, which optimizes power efficiency, and a family of 5G/4G power amplifiers.

"We are making portfolio-wide additions to support 5G," Dhiman said. "Not just the modem has to improve, but everything else that has to go along with it as well."
In the long-term, Qualcomm hopes to see its technologies expand into uses such as home broadband and industrial IoT. Rasmus Hellberg, senior director of technical marketing for Qualcomm, said he hoped to see 5G used in everything from low-power sensors to data-hungry technologies, such as augmented reality.
"The vision for 5G was that 5G is going to be the unifying connective fabric that can connect more than just the smartphone," Hellberg said. "We can bring it into other industries, and have new capabilities that have not even been done before."