Laptop Expands Unmanned Aircraft's Portability
Monday, February 18, 2019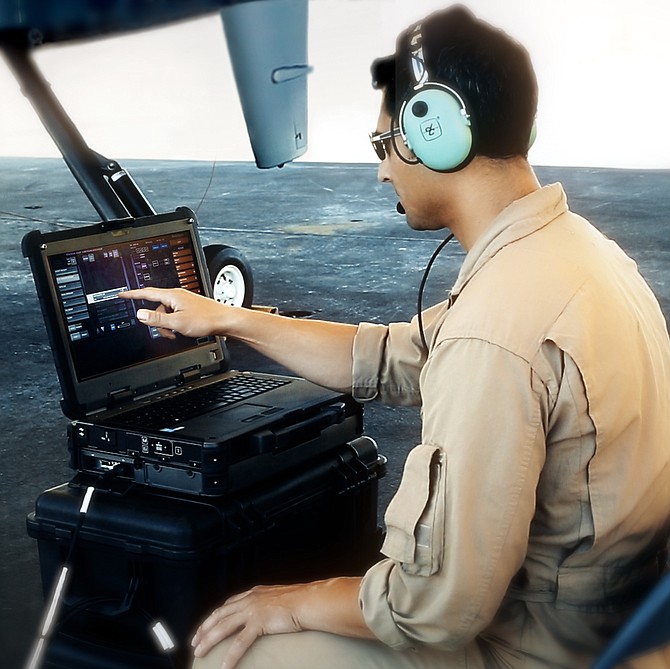 General Atomics Aeronautical Systems Inc. publicly announced the next piece of technology that will command its advanced MQ-9B remotely piloted aircraft.
It's a laptop.
Granted, the laptop computer is ruggedized for use in the field, so its profile is more like an attaché case than something from the Apple Store.
Privately held GA-ASI demonstrated the capability on Dec. 4, and publicly released details of the demonstration on Feb. 15.
The demonstration flight did without the standard "launch and recovery element" ground control station or GCS.
A technician conducted a series of pre-flight checks and engine start using only the Expeditionary Command and Control (XC2) portable laptop, which then handed the aircraft over to a remote ground control station using a satellite link. The MQ-9B conducted a short, routine flight. The process then reversed itself. As the aircraft taxied back to its chock location, control of the aircraft was transferred back to the laptop. The laptop operator completed post-flight procedures and shut down the aircraft.
David R. Alexander, president of aircraft systems with GA-ASI, described the laptop technology as "a game-changer for our customers. Instead of having a forward GCS relying on line-of-sight (LOS) communication, this advanced capability greatly reduces manpower and ensures that the remote pilots can be far away from any potential conflict." Alexander made his comment in a prepared statement.
GA-ASI is based in Poway.