Amplyx Pharmaceuticals Snags FDA Orphan Drug Designation
Monday, February 18, 2019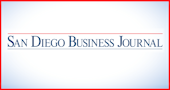 San Diego-based Amplyx Pharmaceuticals' lead drug candidate received an orphan drug designation for a condition that can be life-threatening for HIV/AIDs patients and others.
The U.S. Food and Drug Administration awarded an orphan drug designation to APX001 in cryptococcosis, an infectious disease of the lungs or central nervous system, known to impact organ transplant recipients, cancer patients on immune suppressing therapies and HIV/AIDs patients.
The designation opens the door to additional clinical research tax credits, a fee waiver and an additional seven years of market exclusivity, if the drug wins approval.
"While antiretroviral therapy has successfully extended the lifespan of HIV patients, cryptococcal meningitis remains a leading cause of death in HIV patients, particularly in low and middle-income countries," said Michael Hodges, chief medical officer of Amplyx.
He added the drug candidate, in combination with antifungal fluconazole, "has the potential to be a transformational life-saving, once daily, all oral treatment for cryptococcal meningitis."
APX001 has also received the designation for other infections and rare, hard-to-treat molds, like invasive candidiasis and aspergillosis. It's also won development incentives by way of Qualified Infectious Disease Product designations.
APX001 is in a phase 2 clinical trial as a first-line treatment for fungal infections.