REAL ESTATE: RAW LAND SCARCE, REUSE EYED IN NORTH COUNTY
Special Report: An In-Demand Address
Sunday, February 17, 2019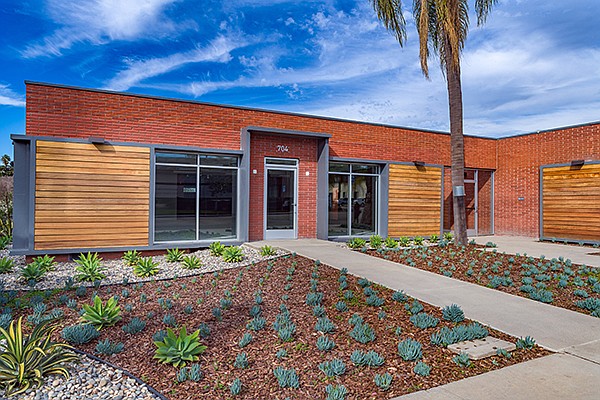 Despite the shrinking inventory of raw land, demand for North County property is going strong, with low vacancy rates for industrial and office property.
"All our brokers are busier than ever," said Andy LaDow, regional managing director of Colliers International.
"North County was very successful, relative to the overall county, in both the office and industrial side," LaDow said.
W. Erik Bruvold, CEO of the San Diego North Economic Development Council, said manufacturing and retail segments of the market "continue to look solid and robust with vacancy rates at or well below historical averages and rent increases continuing to grow, but at a sustainable rate."
Notable transactions in 2018 included RAF Pacifica's portfolio sale of 12 industrial and office buildings for $170 million and Viasat's expansion in Carlsbad with the ongoing construction of an East Campus that will ultimately cover 23 acres on El Camino Real across the street from its existing campus.
Renovating Older Buildings
The shift in North County real estate as the amount of vacant land shrinks is for developers to start looking at older buildings to renovate.
"We've got some places that are what I'll call old industrial neighborhoods that could be ripe for that kind of action," Bruvold said.
LaDow said he expects to see growing interest in renovating older office buildings.
"You're going to see more and more of those office buildings being ripped out and redone," LaDow said.
That's already happened to a small degree in Escondido.
Waterman Investments recently completed the renovation of two 1970s-era downtown buildings into a boutique office campus and courtyard at 704 E. Grand Ave., and previously converted a formerly vacant bank building at 355 E. Grand Ave., into the new home of Classical Academy.
Waterman didn't disclose the cost of the renovations.
"I'd like there to be more," said Michelle Geller, Escondido economic development manager.
"We're pretty built out but there are opportunities. There are definite opportunities for recycling buildings, especially on the older side," Geller said. "From a cost standpoint and a time standpoint, if you need to get up and running, I've seen some really amazing rehab projects."
Land was the driving force behind much of what has been a booming commercial real estate market through most of the current economic cycle.
"We are now at the point that, for the first time in North County, we are near the end of the land inventory," said Dennis Visser, a managing director of Cushman & Wakefield.
"After this next year or so of development, it will essentially be South County where there's significant developable land," Visser said, adding that North County has about 10.6 million square feet of developable land.
About 5.2 million square feet of that land is in Carlsbad, with most of the rest in Oceanside, Visser said.
"We do still have a few, not many, but a few parcels that are left that are vacant," said Christie Marcella, Carlsbad economic development manager.
The parcels are in the city's Carlsbad Oaks North business park, Bressi Ranch, and "there are a handful of small properties scattered across the rest of the city," Marcella said.
Projects in The Works
Escondido also has a few ground-up projects coming on line, including a Marriott SpringHill Suites expected to open in summer along Interstate 15.
In San Marcos, developer Gary Levitt's Sea Breeze Properties moved forward with construction of his North City project that will ultimately bracket Twin Oaks Valley Road with apartments, restaurants, retail shops, town homes and single family homes in a walkable urban environment on a 150-acre site.
The project includes the ongoing construction of an $81.9 million extended learning center for California State University San Marcos, which abuts the North City development.
Combined with a growing enrollment at CSU San Marcos, North City is a sign of a continuing strong economy in North County, said Ed Ashley, director of business development in the College of Business Administration at the university.
"That's indicative of the growth there is in North County," Ashley said.
Businesses Making a Beeline
Tess Sangster, San Marcos economic development manager, said there's no shortage of businesses looking to locate in North County.
"I would say there's been an uptick of people calling," Sangster said, "random calls I get, people saying 'I want to start a business.'
"The industrial market's so tight, they (landlords) can charge more for rent now than they ever could before," Sangster said.
Vista Economic Development Director Kevin Ham said the city is running out of space at its business park and there's steady demand for what's available.
"We still see fairly strong business growth," he said. "The businesses indicated that they're continuing to look at increased sales growth. A few of them are even looking into moving into larger quarters to expand their space." Vista has formed an opportunity zone in its downtown core, where investors get a tax break for building.
That's drawn interest among apartment developers.
"I get daily calls," Ham said. "It really creates an attractive opportunity for someone to take their capital gains and invest it in this area for a period of time and help it grow."
Darcy Miramontes, an executive vice president of JLL, said Vista has been "pretty open to multi-family development," with 202 new apartments expected to become available in 2019.
Yet Carlsbad leads all other North County cities in new apartment construction, with 541 apartments expected to be added in 2019.
Oceanside Economic Development Manager Tracey Bohlen said the city's downtown and stretches of South Coast Highway are bustling with new development and renovation projects — areas which not too long ago were in decline.
"We've changed our reputation and people want to be here," Bohlen said. "It's just the place to be right now. People want to be invested and involved from outside and from inside the city."
Among notable Oceanside projects, S.D. Malkin this month broke ground on two long-awaited luxury hotels near the beach and the Oceanside pier.
Real estate reporter Ray Huard may be reached at rhuard@sdbj.com or 858-277-8904.
See More: Life Science Firms Show Increased Interest In North County