Contractor Selected for Tenth Avenue Marine Terminal Project
Sunday, February 17, 2019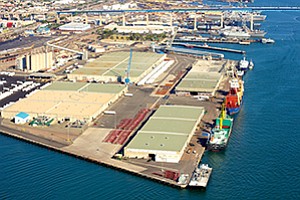 The Port of San Diego and the Board of Port Commissioners has awarded nearly $8 million to San Marcos-headquartered Dick Miller, Inc., for the demolition of a second transit shed as part of the first phase of the Port's Tenth Avenue Marine Terminal Redevelopment Project. This will include the demolition and disposing of a second transit shed, rail and stormwater improvements and new pavement.
In October 2017, Dick Miller was also awarded the demolition contract of another transit shed for $12.3 million, with an anticipated completion date of March 2019.
Construction on the second shed is set to begin April and slated to be completed in a year.
Travel & Hospitality reporter Mariel Concepcion can be reached at mconcepcion@sdbj.com or 858-634-4625.