Lithium-Battery Maker Flux Power Grows Revenue
Thursday, February 14, 2019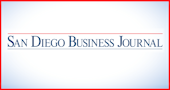 Flux Power Holdings Inc. reported a net loss of $2.92 million on revenues of $2.7 million for the second quarter of its fiscal year. Revenue grew 126 percent from the same quarter last year, when Flux had $1.2 million in sales.
The Vista company makes lithium batteries for electric forklifts and airport ground support equipment.
Recent achievements include shipping $1.2 million in products to a Fortune 100 heavy machinery conglomerate.
Shares of Flux Power trade over the counter. The company's ticker symbol is FLUX.
Flux concluded an initial closing of a private placement at $1.10 per share at the end of December, yielding gross proceeds of approximately $3.7 million. The business used some of the proceeds to repay $2.6 million in borrowings and accrued interest under a short-term credit facility.
Special Sections Editor Brad Graves can be reached at bradg@sdbj.com or at 858-277-6359, ext. 3102