Navy Renames Point Loma Labs
Wednesday, February 13, 2019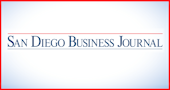 For many San Diego businesses, the name of the customer has changed.
SPAWAR Systems Center Pacific, the U.S. Navy's electronics lab complex on Point Loma, has changed its name to Naval Information Warfare Center Pacific.
It will use the name NIWC Pacific, pronouncing the abbreviation "nye-wick."
"The advantage information warfare brings to the fight is at the core of our Navy's ability to compete and win today and in the coming decades," said SPAWAR's commander, Rear Adm. Christian "Boris" Becker, in a prepared statement. "Recognizing our systems centers as Naval Information Warfare Centers reaffirms our commitment to accelerate the development and delivery of advanced warfighting capabilities to the fleet."
Becker made his remarks Feb. 13 at the West 2019 conference at the San Diego Convention Center. The name change happens Feb. 18. SPAWAR stands for Space and Naval Warfare Systems Command.