Another S.D. Unicorn: TuSimple Tops $1B Valuation with $95M Funding Round
Wednesday, February 13, 2019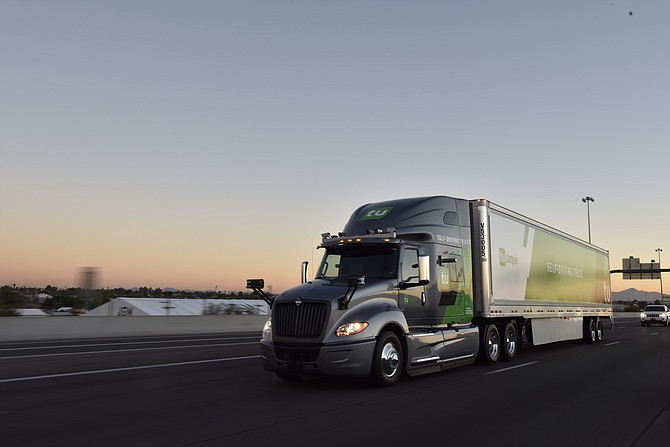 Another unicorn joined San Diego's ranks this year. TuSimple, a startup designing software for autonomous trucks, closed a $95 million funding round, tipping the company's pre-money valuation above $1 billion.
Sina Corp., a publicly traded technology company with headquarters in Beijing, led the series D funding round.
"They decided that they wanted to invest strategically in AI and specifically they like what we're doing with trucks," said Chuck Price, TuSimple's Chief Product Officer. "They and the others in the syndicate are deeply committed to seeing this to a sustaining business long term, to actually realizing it."
Headquartered in UTC, TuSimple is testing its product with a small fleet of self-driving trucks in Arizona. At the Consumer Electronics Show this year, TuSimple announced it would grow that fleet from 11 to 40 vehicles. Now, with the additional funding, the company expects to have more than 50 self-driving trucks by June.
Price said the company also plans to use the money to drive its commercialization efforts. That includes bringing on more engineers, joint development programs and more on-road testing. TuSimple will also expand its testing routes into New Mexico and Texas along Interstate 10.
"We've exited the research stage and are working heavily on making this a commercial solution," Price said. "We're quite confident in where we are. We think we'll be the first to have a driver-out solution."
TuSimple's product differs from the competition because its trucks can drive autonomously on surface streets and highways. Its camera-based system can also monitor the road up to 1,000 meters away.
To date, TuSimple has doubled its valuation with each funding round. The latest round, which closed in December, was made public Feb. 13. The company plans to raise more funding later this year.
"We have been pleasantly surprised at the recognition investors have given us in terms of valuation. We're thrilled and humbled," Price said. "Right now, we're focused on task at hand. If we do it right, the market will respond."