Startup Ciari Guitars Looks to Win By a Neck
Monday, February 11, 2019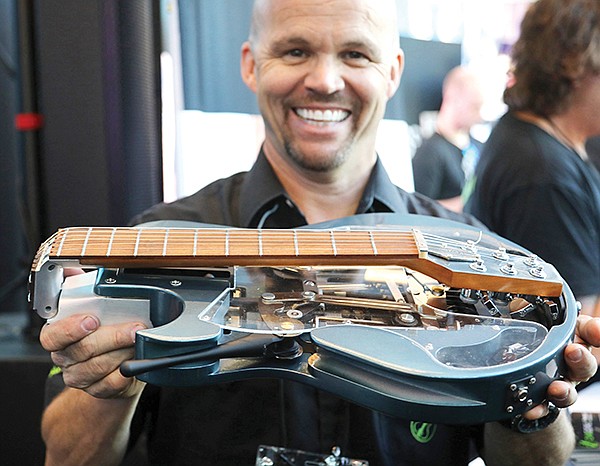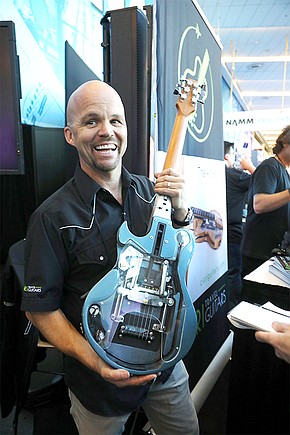 After Jonathan Spangler's San Diego-based guitar startup made its big debut in America's Music City, Spangler is gearing up to manufacture and sell his first products this summer. His company, Ciari Guitars, creates professional-quality, foldable guitars designed to fit into the carry-on compartment of an airplane.
"We're trying to take it from my garage into airplanes all over the world," Spangler said.
Spangler founded his startup in 2016, after serving as medical device company NuVasive Inc.'s chief patent counsel for 14 years.
At NuVasive, Spangler had another important role: He headed up the company's band for eight years. At the company's quarterly meetings, which were held with a "Tonight Show" format, he would play for spine surgeons, patients and company leadership.
"When I first joined the company, we had about 30 employees," Spangler said. "As we grew as a company, our CEO actually tapped me to be the "Paul Shaffer" of the company band."
The gig led Spangler to play at the House of Blues and in Germany. In the meantime, he would also fly between patent offices and attend depositions. Spangler estimated he would travel about 60 times per year.
"That's when I experienced the pain points," he said. "It took me a while for me to take my own advice: If you don't like your options, make what you want, and maybe someone else will want it."
Spangler's startup recently graduated the Project Music Portfolio, a Nashville, Tennessee-based accelerator for startups in the music industry. He also has built out Ciari's advisory board, including famous luthier (guitar-maker) Joe Glaser and Rick Froio, executive vice president of Black River Records in Nashville.
Unlike other portable guitars, which look to change the size or shape of the instrument, Ciari's product folds at the neck. The flip of a switch lowers the tension of the guitar's strings, and unlocks a hinge, allowing it to fold without risking damage to the instrument.

Spangler plans to manufacture the company's premium line of guitars in Nashville, with a price target of $3,000. He also is looking to the San Diego area, or even Tijuana, as an option for the company's mid-tier line.
The company is currently raising funds to fuel its step into the commercial sphere, Spangler said.