Equinox Project Moves to USD
Monday, February 11, 2019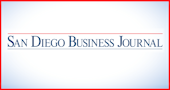 San Diego-based Equinox Project, a nonpartisan civic program focused on creating solutions for regional economic and environmental issues, has moved from the Center for Sustainable Energy to The Nonprofit Institute at the University of San Diego. The move allows access to resources at USD for the Equinox Project's mission to continue to provide data that addresses regional growth for local neighborhoods and communities.
"The Nonprofit Institute at USD has a long history of providing leading edge research, education and trainings that strengthen our local communities," Emily Young, executive director of the Nonprofit Institute, said in a news release. "We are excited to be the new home for the Equinox Project to provide timely local data and information for leadership and action on critical issues that we face as a region."
Founded in 2009, Equinox Project is best known for its annual San Diego Regional Quality of Life Dashboard, launched in 2010, which measures and rates developmental progress related to sustainability and economics. The Dashboard is used by policymakers, businesses and individuals. Equinox also works closely with Leaders 2020, a young professionals' network.
Travel & Hospitality reporter Mariel Concepcion can be reached at mconcepcion@sdbj.com or 858-634-4625.