Rotary Mobilizes to Deliver Much-Needed Emergency Grant
Sunday, February 10, 2019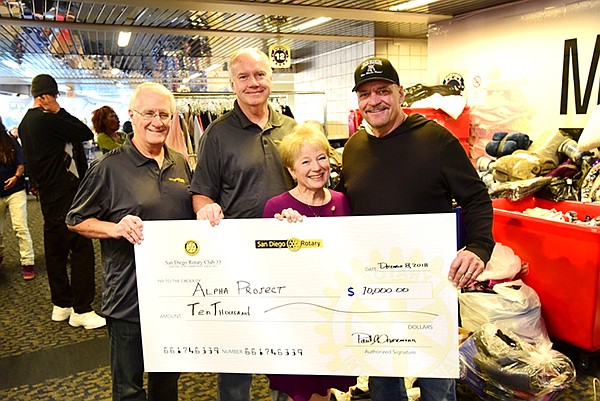 San Diego Rotary, the fourth largest Rotary Club in the world, announced an emergency $10,000 grant to the nonprofit Alpha Project. The funds will be utilized to replace much-needed supplies lost when the homeless shelter flooded out during recent winter storms.
Paul Devermann, San Diego Rotary's executive director said: "Our Club's executive committee and foundation board quickly mobilized and delivered the check in less than 24 hours. It's a great example of the things we can do in the spirit of service." 
Alpha Project's shelter was flooded by the recent rain, which led to a hazmat response at the facilities. What little the 300 residents possessed is now gone as they moved to a temporary shelter at SDCCU Stadium in Mission Valley. Alpha Project is in desperate need of donations — clothing, blankets, hygiene items, socks, shoes, bottled water — as well as monetary donations so they can purchase additional supplies for the residents.
Alpha Project serves more than 4,000 men, women, and children each day. Services offered include affordable housing, residential substance abuse treatment, supportive housing for people with special needs, basic and emergency services for the homeless, transportation assistance, mental health counseling, employment training, preparation and placement, education and community services.
Visit alphaproject.org.