Polishing a Gem: Right Touches Take House to Next Level
Sunday, February 10, 2019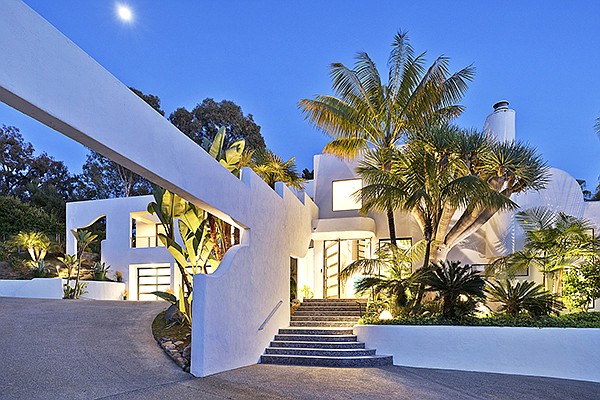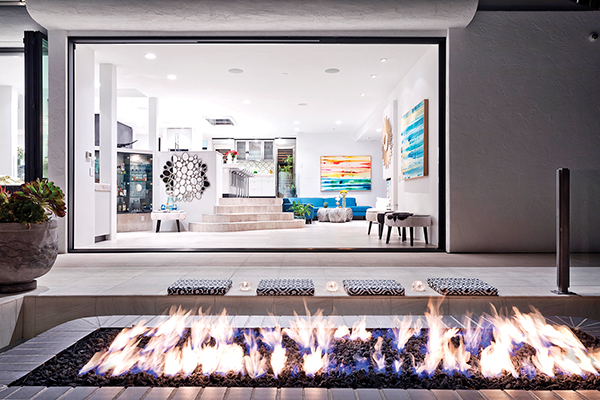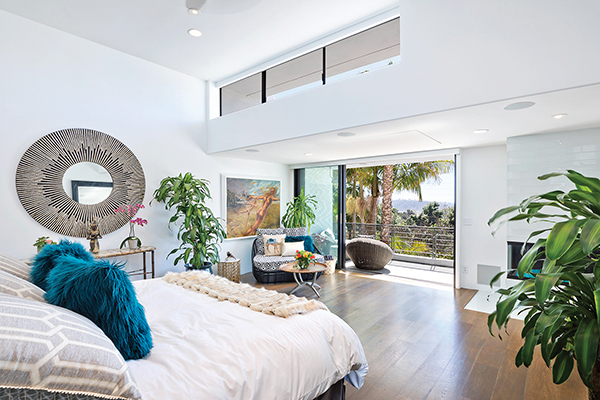 Inspired by her travels in Indonesia, Thailand and other parts of Asia, Renee Linder has intuitively incorporated the four basic elements essential to life — earth, fire, water and air — into this home in Rancho
Del Mar.
Linder and her husband travel extensively in search of ideas and objects to incorporate into the homes they select to remodel. One of their recent projects is a home at 14945 Via La Senda that is unlike any other on the broad quiet street that ends in a cul-de-sac. It's across the street from one of the fairways of the Lomas Santa Fe Country Club and stands out among the classic ranch and Mediterranean homes nearby. The home was built in 1984 in an ultra-modern style of white stucco, sensuous curves and arches, but the tired 35-year-old interior needed an update.
"We've completely redone the house; it had some great bones," Linder said. 'It had the towering ceilings that are almost endless, they go completely to the sky; that's one of the things that we always look for when we buy a house to redo."
Roderic Stadelmann, the owner and founder of White Label Home Collective, now part of the Compass real estate family in San Diego, has the listing on the home. It has four bedrooms, four baths with 4,322 square feet. The listing price is $3.995 million.
Linder and her husband buy, remodel and resell homes. She said it's a long and arduous process to find a "gem" and then redo it to their personal idea of how they want the space to be.
"We never buy anything that we wouldn't want to end up living in forever." Linder said. "Because you never know what's going to happen to the market; the real estate market is crazy."
Linder discovered while researching Via La Senda's background that the home once had a waterfall and a river that went through the middle of the home.
"Obviously they didn't have children," she said. "I just can't imagine how that would work; it had been removed by the time we bought it."
Linder's approach to redesigning the interior and exterior of a home is an innate talent. She approaches it from a deep well of experience and imagination.
"When I walk into a home that's for sale, I have an idea of what I'm going to do the minute I walk in," she said. "After I walk the house, I know exactly what I'm going to do."
She has a repertoire of concepts that she incorporates into each project. Some of the "must haves" are: white walls, large format flooring throughout, meticulous lighting placement, skylights, fire elements, indoor plants, surround sound inside and out and rooms that are an extension of the exterior. And, like most designers who do this sort of work she has her "go-to" local suppliers as well as relationships with artisans in Indonesia.
"A lot of the things we get from our travels from Indonesia; anything I can dream up they can make for me," Linder said. "I do containers, so that's what I do, I'll come with ideas while there and go to different makers to have different things designed and made."
One of her favorites stateside is Sonoma Tilemakers: "they do all handmade beautiful things."
She said, custom tilework used sparingly has that "punch of beautiful, exquisite, iridescent glass or a handmade ceramic."
All of Linder's talent shows through in the home. The living spaces are serene and peaceful with large inlaid stone floors, tall white walls intermingled with long stretches of glass walls that open electronically at the push of a button. The kitchen is up a level from the living area, but open to the entire space with views out to the disappearing edge pool and the exotic luxury resort-style landscaping and lounge/entertaining areas. Four-inch thick quartzite stone countertops in the kitchen illuminate from below and give an ethereal quality to the experience of preparing a simple meal. Upstairs, the Zen-inspired master suite has a fireplace, separate office and a heated ocean view balcony.
"There's a nice little heater in the ceiling, so you can sit out there any time of year," Linder said. "If it's raining or whatever, with your glass of wine or cup of coffee and see the ocean; it's pretty amazing."

Then there's the spacious 1.16-acre outdoor space. The goal was to have as much of the outside coming in from every room, every window.
"You look out there and there are gorgeous trees — the trees on this property are just breathtaking," she said. "Some of them I've never seen before, they look like prehistoric animals, like crazy dragons, the skin on these trees is just amazing, like Dr. Seuss."
Send luxury real estate items to sglidden@sdbj.com.