BIOTECH: FIVE S.D. COS. TRYING FOR LIVER THERAPEUTIC
NASH Race Has Room For Multiple Winners
Sunday, February 10, 2019
It's a market forecast to reach upward of $35 billion. And it's untapped — for now.
Viking Therapeutics and at least four other San Diego biotechs are fueling a race in nonalcoholic steatohepatitis, or NASH, a fatty liver disease without an approved medicine.
Biotech watchers anticipate a wave of new NASH medicines in the next few years. That's as promising drug candidates emerge from late-stage clinical trials.

Company executives and analysts said San Diego's concentration of biotechs couldn't resist such a hot space. As a catalyst to the scene, a UC San Diego research center aims to boost liver disease drug development.
Viking's Treatment
Locally, Viking is a high profile NASH drugmaker. Several pharmaceuticals outside the region are further along in clinical testing than the company. But Viking cast its liver drug as superior.
"I think we've seen a lot of examples of second, and third and fourth drugs with a better profile really capturing a meaningful share of the market," said Brian Lian, CEO of the 17-employee company.

In phase 2 trial results in September, Viking's drug hit a target of reducing liver fat and cholesterol. The company is planning a larger trial.
An outgrowth of obesity, NASH can cause liver cirrhosis, cardiac complications and liver failure. By next year, NASH is set to become the leading cause of liver transplants.
The Patient Pool
It's estimated some 3 percent to 12 percent of U.S. adults have NASH, while 30 percent to 40 percent have its cousin, non-alcoholic fatty liver disease, according to the National Institute for Diabetes and Digestive and Kidney Diseases.
NASH might seem like a jam-packed space with a flurry of mid- to late-stage drug programs. But the disease's complexity means treatment could involve multiple drugs.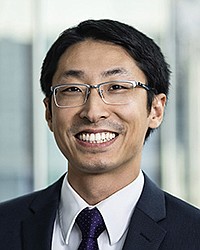 "The best comparison is diabetes, where patients are on several different drugs at the same time," said Andy Hsieh, an analyst with William Blair who covers Viking.
The appeal of Viking's broad drug — meaning the benefits appear to extend beyond the liver — is that a patient could potentially take fewer drugs or even one. But Hsieh cautioned against drawing conclusions until a larger clinical trial.
In a September research note, he said Viking's phase 2 data appeared better than competitor Madrigal Pharmaceuticals, though prefaced that clinical trial comparisons come with caveats.
Pennsylvania-based Madrigal released NASH data a few months before Viking.
But pharmaceutical Gilead and Intercept could have first crack. In the first half of the year Gilead is expected to report results of two late-stage NASH studies, or phase 3. Intercept's phase 3 clinical trial is poised to read out in quarter one.
Prev Next