Life Sciences Continue to Boost Market
Sunday, February 10, 2019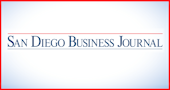 It's probably no real surprise, but Cushman & Wakefield recently reported that the life science industry was a driving force behind commercial real estate investment in San Diego and elsewhere in 2018 and is likely to perform well in 2019.
With 18.9 million square feet of lab space, San Diego County is the third largest biotech hub in the country, according to Cushman and Wakefield, trailing Cambridge, Massachusetts, and the San Francisco Bay Area.
The industry employs more than 43,650 people in San Diego County, Cushman & Wakefield reported.
Among the bigger life science transactions the firm reported — all in Sorrento Mesa — was $148.7 million by Alexandria Real Estate Equities for 247,000 square feet of space; $28.8 million by Bollert Lebeau for 181,000 square feet; $43.2 million by TIAA-CREF for 82,000 square feet; and $9 million by Bollert Lebeau for 50,000 square feet.
"With the other markets around the country, the San Diego life science sector is performing at an all-time high, resulting in the growth and expansion of the overall life science tenant base," said Greg Bisconti, Cushman & Wakefield executive director and head of the firm's life sciences advisory group.
"Fundraising, IPO's (initial public offerings) and M&A (mergers and acquisition) activity are at an all-time high, with numerous local life science companies having gone public or many filing," said Bisconti, who is based in San Diego.
Thanks in part to the presence of several universities and research institutes, "We see that companies come here, grow and prosper, get acquired, spinout and continue the process to spawn new companies," said Ted Jacobs, managing director of Cushman & Wakefield's Life Sciences Practice Group in San Diego.