Big Names Come to Small Agency For Creative Focus
Sunday, February 10, 2019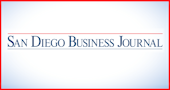 From quitting the hotel industry — twice — in the '90s to getting awarded for her work with the sector just last month, things have come full-circle for Indra Gardiner Bowers.
When Marriott Hotels wouldn't relocate her from Boston to San Diego, which she'd fallen in love with while visiting her father, Bowers quit her job in the restaurant department. Except some time later she returned to Marriott when the company reached back out to her and asked her to help them open a resort in Palm Desert. Three and a half years later, after working in sales and marketing, she quit again, and made her way to America's Finest City.
Today, Bowers, who has a degree in hotel and restaurant management from the University of Massachusetts Amherst, is founder and CEO of The i.d.e.a. Brand, a full-service marketing agency headquartered in Little Italy and with approximately 30 employees. Jonathan Bailey is the company's founder and chief relationships officer and Ryan Berman, also a founder, is a silent partner.
And, as if longevity isn't a sign of success — the company was founded in 2012 — i.d.e.a. was recently awarded with the Platinum Adrian Award in Digital Marketing Innovation by the Hospitality Sales and Marketing Association International for its work with Curio Collection by Hilton.
In the early 1990s, after Bowers had gotten laid-off from her first marketing job in San Diego with The Gable Group and started doing independent work, she had a chance meeting with Bailey and together launched their first marketing venture: Bailey Gardiner. In the early 2000s, the two met Berman, who owned a creative company called Fishtank at the time, and decided to fold both companies and, all three, start something new. That's when i.d.e.a. was born.
Since inception, i.d.e.a. has worked with big names like Burger Lounge, Qualcomm, Major League Baseball, Scripps and Rubio's Coastal Grill, among a long list of others. According to Bowers, the company has tripled its revenue since its Bailey Gardiner days.
"We are really focused on how to create the right sizing and ideal size for us," she said. "Let's not measure by the number of people we have or the number of accounts we work on. Instead, let's focus on profitability of the accounts we do get and the success of our clients."
Travel & Hospitality reporter Mariel Concepcion can be reached at mconcepcion@sdbj.com or 858-634-4625.