Viasat Grows Revenue, Orders Third ViaSat-3 Satellite
Thursday, February 7, 2019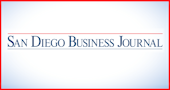 Satellite communications specialist Viasat Inc. reported a net loss of $10.4 million, or 17 cents per share, on total revenues of $554.7 million during its third quarter, which ended on Dec. 31.
The Carlsbad-based corporation said that because of "exceptional performance" it set revenue records for its three segments: satellite services, commercial networks and government systems. The business grew total revenue 45 percent and cut its net loss 58 percent over the same quarter one year ago.
"We are continuing to execute on our objective of converting prior growth investments in advanced networking capabilities, aviation type approvals, new geographic markets and the ViaSat-2 satellite and network infrastructure into strong revenue and Adjusted EBITDA gains in fiscal year 2019 and beyond," said Chairman and CEO Mark Dankberg in a prepared statement. EBITDA stands for Earnings Before Interest, Taxes, Depreciation and Amortization.
Viasat (Nasdaq: VSAT) also announced it had reached an agreement with Boeing Satellite Systems International for construction of the third ViaSat-3 satellite, planned to serve the Asia Pacific region. Two other satellites in the ViaSat-3 constellation are under now construction.
Viasat reported its financial results on Feb. 7. In the third quarter of the previous fiscal year, Viasat reported a net loss of $24.6 million, or 42 cents per share, on total revenues of $381.8 million.
Also on Feb. 7, Viasat reported a contract extension with United Airlines, which will bring Viasat's in-flight entertainment and connectivity system to 34 Airbus A319 aircraft.
Viasat currently provides in-flight connectivity to 1,123 commercial aircraft.
As of Dec. 31, the business had a sales backlog of $1.8 billion, up 62 percent from $1.1 billion the same time last year.