As Deadline Looms, Biotechs Take Stock of Last Government Shutdown
Thursday, February 7, 2019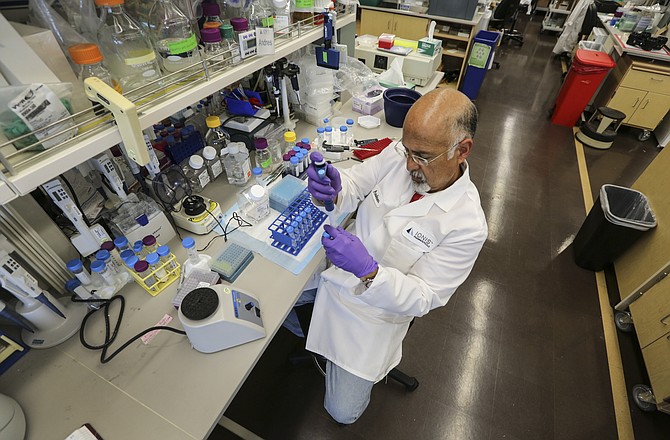 The government shutdown ended Jan. 25, but lingering effects are evident in San Diego life sciences, from a halted merger to initial public offerings.
On the flip side, the San Diego Business Journal reached several biotechs that were unscathed by the 35-day shutdown. However, the fear is that more would be embroiled if Congress and President Donald Trump don't reach a deal by Feb. 15 and the doors again close.
The shutdown delayed a planned merger between a San Diego health firm and a Chinese company, according to David Crean, a managing director at Objective Capital Partners, who advised on the transaction. He declined to share company names, citing a sensitive situation.
Crean said the deal was expected to be sealed in December but has yet to close, as the government closure slowed review, including from the Committee on Foreign Investment in the United States, which vets foreign deals for national security risks.
"Here we are now Feb. 1 and we don't have a deal closed, and I have shareholders giving me a little bit of grief in terms of the likely timing on this," said Crean.
Illumina's planned acquisition of Pacific Biosciences for $1.2 billion is undergoing antitrust review. The San Diego Business Journal asked if the shutdown pushed back the deal, and what impact another closure could have.
A company spokeswoman said Illumina doesn't "want to speculate on a hypothetical of the government shutdown." She also pointed toward CEO Francis desouza's Jan. 7 remarks, in which he said the deal was still on track to close mid-year.
The shutdown gummed up at least one San Diego IPO: Gossamer Bio. Tired of waiting, San Diego-based Gossamer Bio on Jan. 23 submitted a plan to bypass U.S. Securities and Exchange Commission review, a maneuver with risks by the company's own admission. But Gossamer later reverted to a traditional IPO path after the government reopened.
The company is slated to go public Feb. 8. Elsewhere in San Diego, Cirius Therapeutics, Cibus and Poseida Therapeutics have put in IPO paperwork but have yet to list shares.

Biotechs ready for an IPO have scrambled to get SEC sign-off, in case of another closure.

The 35-day shutdown also stirred concern that the U.S. Food and Drug Administration would be slower to approve new drugs and clinical trial applications.
Adamis Pharmaceuticals asked the FDA to greenlight two products in late December, including a pre-filled syringe for opioid overdose. The San Diego company has yet to receive Prescription Drug User Fee Act (PDUFA) dates, which are deadlines for the FDA to review new drugs.

"Adamis is not aware of any delays of the NDA (new drug application) review timing at this time but we have not received our PDUFA dates yet so the government shutdown effects, if any, on Adamis' NDAs is still unknown at this time," said Mark Flather, Adamis' senior director of investor relations and corporate communications, in an email.
Tracon Pharmaceuticals — which on Dec. 26 asked the FDA for the OK to begin clinical trials of its cancer drug — hasn't been impacted, according to Chief Business Officer Mark Wiggins.
Nor has Ionis Pharmaceuticals, which has a more than 40-drug pipeline, and thus a good deal of FDA activity.
"As of today, our day-to-day operations have not been affected and we are not aware of any impact the government shutdown may have caused with our FDA interactions," the company said in a statement.
UC San Diego Health's research division did not return a request to comment.
In mid-January speculation mounted that Celgene would face delayed approval of ozanimod, a drug that was part of the company's acquisition of San Diego's Receptos in 2015. Jay Backstrom, Celgene's chief medical officer, said on a Jan. 31 conference call the company was on track, but its executives said that could change if part of the government closes again.
With fears of another shutdown, the California Life Sciences Association said it's monitoring the situation and communicating with members.
"We are hopeful congressional leadership and President Trump can reach a long-term, mutually satisfactory agreement that will provide more certainty for federal agencies of importance to life sciences innovation," Jenny Nieto, the association's vice president of federal government relations and alliance development, said in a blog post.
Life sciences and health care reporter Jared Whitlock can be reached at jwhitlock@sdbj.com or 858-634-4636.
This article was updated with remarks from Illumina CEO Francis deSouza.