Viasat Sells Wi-Fi Service in Underserved Rural Mexico
Sunday, February 3, 2019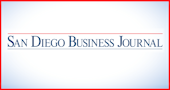 Viasat Inc. said in late January that its community Wi-Fi service is available to roughly 1 million residents south of the U.S.-Mexico border.
The Carlsbad company is working with Tijuana-based Grupo Prosperist to bring its service to thousands of lesser-known communities in Mexico. The community Wi-Fi service uses a centralized Wi-Fi hotspot to connect a village to a Viasat satellite.
Viasat bills its satellite-based internet service as "digital inclusion," able to reach people living far from other telecommunications infrastructure.
From a perch 22,200 miles above the Earth, the ViaSat-2 satellite covers Mexico, Central America, the northern tip of South America, as well as the Lower 48 states and much of Canada.
Carlsbad-based Viasat (Nasdaq: VSAT) said it is evaluating other potential business partnerships. Areas include microfinance, mobile banking, education and telemedicine. Outside of Mexico, Viasat sells services to the consumer, the airline industry, other companies and the military — and it does a healthy business selling satellite hardware and software to the latter three. The company reported revenue of $1.6 billion last year.