Relatively Cheap Rent in County a Sweetner for Biotechs
Sunday, February 3, 2019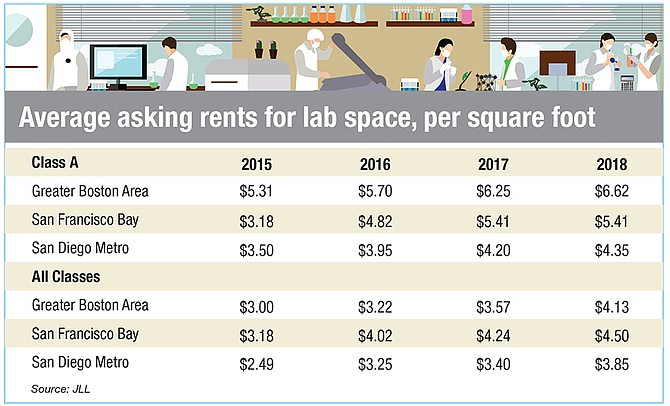 San Diego lab rents in the prior four years were consistently lower than the country's two larger life sciences markets, San Francisco and Boston.
It's a matter of supply and demand.
"Your supply in San Francisco and Boston is in the low single digits, even 1 or 2 percent. In San Diego we've been in the 5 or 6 percent range over the last year. We just have a little more space," said Grant Schoneman, managing director of JLL San Diego.
Class A lab space in 2018 in San Diego was $4.35 per square foot, versus $5.41 in San Francisco and $6.62 in Boston. The lease numbers are "triple net," which requires a tenant to pay taxes, fees, insurance and shoulder maintenance along with rent and utilities.
San Diego usually ranks as the third largest life sciences market, with either San Francisco or Boston in the top spot.
The comparative rent break is a nice sweetener for biotechs or pharmaceuticals eyeing San Diego. But companies mainly choose the region for breadth of talent, Schoneman said.

"Rent helps, but it's not a key driver," he said. "The bigger drivers are talent, synergies between research institutions and the biotechs, and mergers and acquisitions bringing pharmaceuticals here."
While lower rents alone might not entice a biotech here, it's not often you hear about the region's commercial real estate prices being a competitive advantage.