PE Firm Buys Stake In S.D.-Based BioDuro
Sunday, February 3, 2019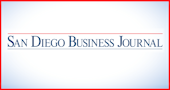 Private equity firm Advent International bought a majority stake in San Diego-headquartered BioDuro for an undisclosed amount, according to a recent announcement.

BioDuro — which has operations across the U.S. as well as in Beijing and Shanghai — does drug discovery, development and manufacturing on a contract basis.
The company's expansion plans include a new preclinical discovery facility in San Diego.
David Preston, an operating partner with Advent, will become chairman of BioDuro's board. Amit Patel, another Advent operating partner, also joined BioDuro's board.
Massachusetts-based Advent International has invested in more than 340 private equity transactions in 41 countries and as of September had $39 billion in assets under management, according to the company.
BioDuro has undergone significant change in recent years. Notably, the company merged with San Diego's Formex in 2016.
A wave of consolidation and acquisitions has swept through contract research organizations like BioDuro in recent years.