One Paseo Retail Goal Is for 'Gathering Space'
Sunday, February 3, 2019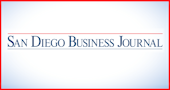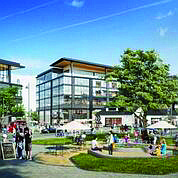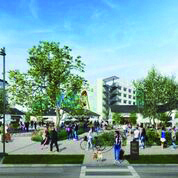 Apparently, people no longer shop.
They experience.
That's the theory behind Kilroy Realty Corp.'s One Paseo project in Carmel Valley.
The company has been doling out information on the 23-acre mixed-use development in dribs and drabs, but Kilroy officials recently gave a tour of the retail portion of the project which will include 44 shops and restaurants in about 96,000 square feet of space.
"The whole goal of this project is to be a gathering space," said Nelson Ackerly, Kilroy senior vice president.
Toward that end, the layout of One Paseo has shops and restaurants arranged along walkways that meander through the site — a far cry from the more traditional shopping centers in which stores are aligned in rows or grids, often facing an open parking lot.
The shops won't open until March, and construction is ongoing, but the shells of the wood-frame building are finished and the final touches are going in around the walkways.
The color scheme is black-and-white throughout and the design is meant to evoke a country kind of feel.
The project is big on open space, with what amount to mini-parks arranged at intervals throughout the site, including one that has a giant, upended tree trunk in the middle that will become part of a children's play area.
Many of the retailers started out online and are expanding to have brick-and-mortar shops, said Nate Smith, the Kilroy asset manager who was in charge of filling the development with trendy businesses.
"You can't think inside the four walls anymore," said Smith, who recruited many of the tenants.
"It's a true curation, we've been very thoughtful with who we do business with," Smith said.
Forget about discount stores, One Paseo's tenants are more along the chic fashion line of businesses.
Still to come are a 608-unit apartment complex at the southwest corner of the site and two office buildings totaling 286,000 square feet at the southwest corner of the site — both of which provide built-in customers for the retail shops and restaurants.
The apartments are expected to start leasing in the summer and the office buildings are slated for completion in 2020.