Nanomedical Diagnostics Changes Company Name
Sunday, February 3, 2019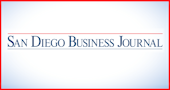 San Diego-based Nanomedical Diagnostics is now known as Cardea.
The name change reflects a company shift to broader health care and life sciences, the company stated in a news release.
Cardea's biosensor products have primarily been geared toward pharmaceuticals for drug discovery and development. Recently, the company started a new licensing model, under the banner of OEM, or original equipment manufacture.
"Our graphene biosensors have the ability to network biology with computers. This technology platform offers a feature the world has never seen before by presenting an immediate way of detecting what's happening in the biology around you," said co-CEO Ross Bundy in a statement.
In connection with the broader focus, Cardea brought on Michael Heltzen as co-CEO, an investor and adviser since the company's beginning.
The company said the name Cardea — Roman goddess of hinges and gates — stems from the company connecting biology to digital networks, giving a view into complex biology interactions.
Products under the Nanomedical Diagnostics brand will continue under the shortened name Nanomed, a Cardea brand. Cardea's new OEM biosensor infrastructure and partnership business will run under the Cardea name.
Cardea in late December moved to a 16,500-square-foot La Jolla office, tripling its footprint.