PROPERTY: K1 BRINGS UNIQUE OFFERING TO GROWING FIELD OF HIGH-END APARTMENTS
Luxury Rising
Sunday, February 3, 2019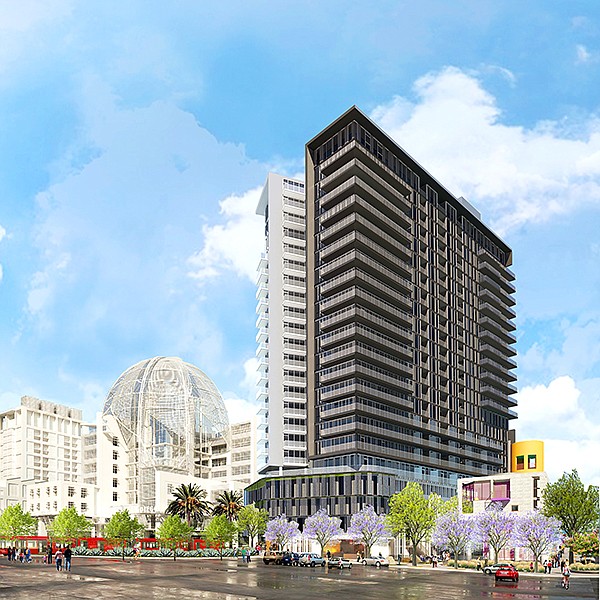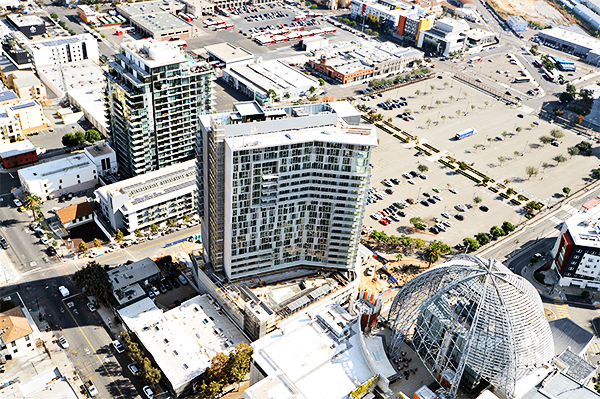 A $120 million apartment tower that pays homage to San Diego's Central Library is nearing completion in East Village in what brokers said is a robust market for new apartment construction that's likely to continue in 2019.
With the unassuming name of K1, the 23-story high-rise at 330 13th St., and a sister three-story building next to it are being developed by The Richman Group in a neighborhood that's seen rapid growth.
The sister structure — dubbed the "Sliver Building" — was designed by architect Rob Quigley, who also designed the central library directly across the street from the K1 tower.
The tower was designed by Large Architecture of Los Angeles.
Built by Level 10 Construction as the general contractor, K1 has 222 apartments with 7,000 square feet of retail space on the ground floor and parking for 317 vehicles.
"It's going to be one of those properties that people remember when people drive by," said Preston Underdown, director of development for The Richman Group of California in San Diego.
K1 is among several new downtown apartment projects recently completed or under construction, primarily in East Village and Little Italy.
Aiming for 'Unique'
K1 is unusual partly for the shape of the tower building, which has a "kink" or bend on the west side that allows for unobstructed views all the way down to San Diego Bay for apartments on that side of the building.
"We wanted to create a very special, unique building," Underdown said.
Apartments on the west side also overlook the central library, with its distinctive dome, and the kink "allows the library to breathe from an architectural standpoint," Underdown said. "It's not in such close proximity to the library."
The Sliver building will have two penthouse apartments atop commercial space which is planned for use as a restaurant.
The design and materials used in the Sliver building also are similar to those used in the library, with the white concrete of the structure blending in with the library.
A landscaped paseo will run between the two buildings, creating a pathway that links the bay to East Village.
"There aren't other high-rise buildings if you walk around in the East Village that have an outdoor paseo," Underdown said.
The K1 tower, at 436,399 square feet, includes 11 penthouse apartments on the top floor and 11 penthouse apartments on the 22nd floor.
Building amenities include a resort-style pool and spa, a two-story sky lounge, an indoor-outdoor fitness center and yoga area, a media and conference room, bicycle storage and a dog run and dog washing station.
Likely tenants will be "a combination of people in their 20s, 30s and 40s for the most part," Underdown said.
Rents haven't been set yet, but Underdown said they would be comparable to those in other East Village apartment towers.
Short-Term Competition
With a completion date expected in June, K1 is among a number of new downtown apartment projects coming on line, including a smaller, seven-story complex with 99 apartments that The Richman Group is building at 11th Avenue and F Street.
Called F11 for its location, leasing has already started on F11, with apartments available in March for people to move in, Underdown said.
"I think short-term, there will be a lot of competition," Underdown said. "I think long-term, the downtown story will be very strong and will continue to add jobs."
Even as new projects such as K1 are set to come on line in 2019, the commercial real estate firm Marcus & Millichap in its review of the fourth quarter of 2018 reported that demand for apartments was strong in 2018 and likely to remain strong through 2019.
According to its website, The Richman Group has developed other luxury apartment projects in Florida, Texas, Colorado and in the Northeast. In California, the company has developed the 132-apartment Sage Cerritos in Los Angeles.
The company's portfolio includes $20 billion of property in 49 states.
Employees Drawn to San Diego
Driving the demand in part is the rising cost of single family homes and a strong overall economy in which companies are recruiting workers from outside of San Diego County.
As they move into the county for new jobs, those workers are more likely to be renters than buyers.
More than 7,900 apartments are in the development pipeline, with the biggest share — about 40 percent — are concentrated downtown with high-rise apartment projects such as K1 dominating the downtown market, according to Marcus & Millichap.
"We're definitely at the peak of our delivery cycle," said Rachel Parsons, a director at Moran & Co. "The investment outlook is very positive for 2019."
Countywide, more than 4,000 new apartments were delivered in 2018 and Parsons said she expects a similar number to come on line in 2019.
Including K1, six high-rise apartment projects are under construction, according to Marcus & Millichap, including the nearby Pinnacle on the Park Phase II with 472 apartments at 1443 Island Ave.
Across town, the 23-story Luma built by LMC in Little Italy at 1440 Columbia St., recently began leasing its 220 apartments in what Parsons said is probably the hottest market in San Diego for new apartments.
"Little Italy is really a separate market all by itself," Parsons said. "Little Italy has a bit more of a sophisticated feel. There's a little bit more of a walkability factor — the new piazza and the food hall — it's really kind of a mecca for the high-end person who really wants to rent downtown."
Outside of downtown, apartment projects in the works include a 442-apartment complex Sunroad Enterprises is building in Kearny Mesa; Hammer Ventures is expected to break ground on a mixed-use project that will include apartments in the former post office complex in the Midway District; Suffolk is wrapping up construction of the 300-apartment Palisade at Westfield UTC; and, Kilroy Realty will begin leasing its 608-apartment project that is part of the company's One Paseo mixed-use project in Carmel Valley.
Real estate reporter Ray Huard
can be reached at rhuard@sdbj.com or
858-277-8904.