RETAIL: TECATE SITE HELPS COMPANY TO BE GLOBALLY COMPETITIVE
Taylor Is in Tune With Its Mexico Operations
Monday, December 30, 2019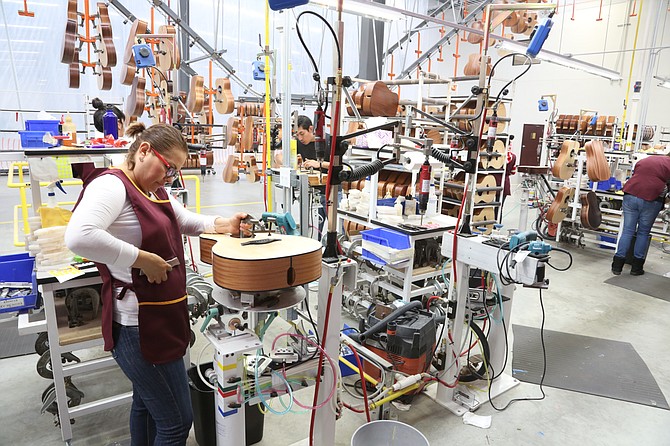 Operating a factory in Baja California, Mexico, for nearly two decades has helped El Cajon-based Taylor Guitars remain successful while expanding its line of high-quality guitars to reach a global market.
Business grew 17.3% between 2017 and 2018. The ability to leverage the cost of doing business in Mexico "has been an important strategic decision for our company, and one we're glad to have made almost 20 years ago," said Shaun Paluczak, vice president of human resources for Taylor Guitars.
By taking advantage of lower costs for labor and materials in the city of Tecate, Mexico, the privately held company has been able to produce more affordable models to reach a broader audience of consumers. "Profits are appropriately re-invested in the company to allow the steady growth that we have seen for the past 45 years," said Paluczak.
45th Anniversary
Oct. 15 marked the 45th anniversary of the company. Because it has built a reputation for making quality instruments, more affordable guitars made in Mexico must meet the same high production standards as those made in the U.S.
Opening the Tecate factory provided a way to better control production costs without sacrificing quality.
Before the company expanded into Mexico, "all of our guitars were pretty expensive," Paluczak said. "The Tecate factory is one of the reasons we can build guitars for consumers at a variety of price points that we couldn't before. Today we are building 550 guitars out of that factory a day."
By comparison, about 130 guitars are produced daily in El Cajon.
An Iconic Business
In addition to being one of the East San Diego County's largest employers, Taylor Guitars has become an iconic business for the region, said Jo Marie Diamond, president and CEO of the East County Economic Development Council. Civic and business leaders appreciate that the company has decided to keep its headquarters in El Cajon instead of moving to a location where it would be less expensive to operate.
The creation of the Tecate plant has helped things pencil out for the company, and that has benefitted the region's economy, said Diamond. "It enables them to better manage their supply chain."
'Globally Competitive'
Tapping into labor across the border has made Taylor "globally competitive in a way that would have been difficult if they had not made that choice," said Nikia Clarke, executive director of World Trade Center San Diego.

The city of El Cajon has become so closely associated with the business that it has erected street signs announcing that it is the home of Taylor Guitars, noted Rick Wilson, president and CEO of the San Diego East County Chamber of Commerce. Many people visit El Cajon simply to tour the Taylor Guitars factory. The benefit to the community is obvious, he said. "They employ a lot of people."
Taylor employs more than 1,000 people, with 45% in El Cajon and 52% in Mexico. It has roughly two dozen employees in Amsterdam.
Experience Shapes Factory
The Tecate factory is a modern facility. Taylor Guitars President Bob Taylor, who co-founded the company with partner Kurt Listug, put all Tecate operations under one roof to increase efficiency.
"All the things Bob learned he wove into planning for that factory," Paluczak said. "It is not a separate part of the business on the side. It is really a critical part of Taylor Guitars. We are crossing that border every day. It's really part of what we do here."
When the Tecate plant opened, some El Cajon workers were living in Mexico and commuting to the U.S. each day. Because of that, Taylor Guitars was able to open the new facility using some existing employees.
Paluczak noted that in addition to guitars, the Tecate plant makes a variety of parts that are used both in Tecate and El Cajon. The two factories are less than an hour's drive apart, enabling employees to easily travel back and forth when necessary.
Workforce Challenge
There are some hurdles that all U.S. businesses face when they open factories across the border, she noted. In addition to learning to function in a foreign country with its own language, laws and customs, Taylor Guitars has had to cope with high rate of turnover among its Tecate employees.
"One of the obstacles we have always is the high rate of turnover," Paluczak said. "There are more maquiladoras in Tecate than when we began there. The competition for labor is high. That is probably one of the biggest challenges we face. Sometimes we lose employees because they get opportunities in the U.S."
Maquiladora refers to a Mexico-based assembly plant for a company from the United States (or another country).
When it comes to production, the main difference between guitars and parts made in Tecate and those created in El Cajon are the materials used, she said. "The technology and the processes are identical. We have a warranty on all of our models, a lifetime warranty, so the quality is there."
There has been no problem with quality control in Mexico, Paluczak stressed.
"Quality control is something that happens at every single workbench," she said. "Bob has always taught that we need to make our least expensive guitars some of our best guitars, so we can ensure that there are no problems out in the field. We need them to stay in shape out there in the world, in a variety of climates."
The company foresees an expansion of its Tecate operation, she said. An additional factory or more warehouse space is possible in the future.
"We see growth potential," Paluczak said. "Exactly what that looks like, I am not sure yet."
Growing the Regional Economy
Taylor Guitars' Tecate factory is part of an ongoing trend, said Veronica M. Contreras, president of Zavero Consulting Inc., which helps U.S. companies open facilities in Mexico. Companies that keep their corporate headquarters in California while moving manufacturing and other labor-intense operations to Mexico, where wages are lower, have more money available to invest in research and development, Contreras said.
Employing workers in Mexico can improve the economy on both sides of the border, Clarke said. It's preferable to have U.S. manufacturing jobs move to Baja California where they continue to contribute to the regional binational economy than to have them move to distant countries, such as China or India, she said. Clarke said her organization is focused on economic connectivity between border communities in the U.S. and Mexico.
In addition to serving as an example of how a U.S. company can benefit from building a factory in Mexico, Taylor Guitars has served as a mentor to other U.S. businesses that are seeking to increase their profitability, Clark said.
It has been "a tremendous resource to other companies in the region," she said. "They have always made sure the companies that grow up around them are able to thrive and the ones who come behind them learn from where they have been."