Executive Q&A: Jon Fredricks, CEO, Welk Resorts
Wednesday, December 11, 2019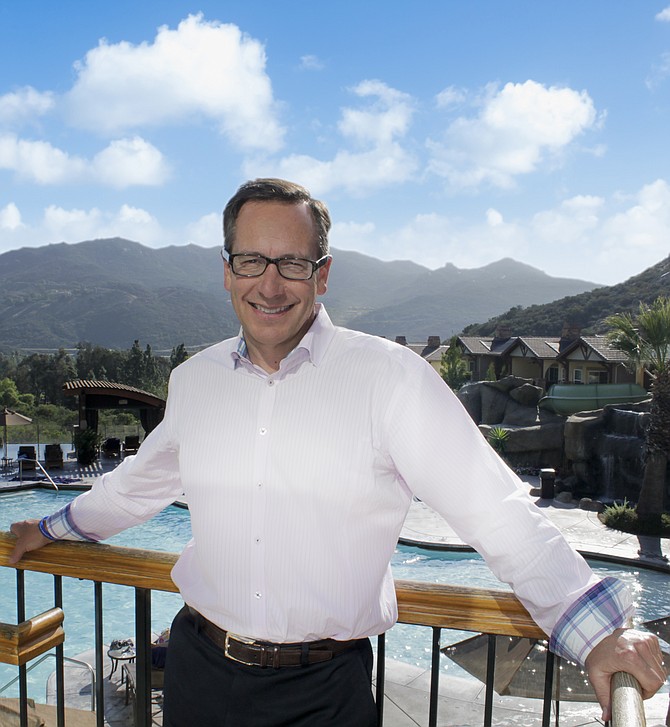 Welk Resorts CEO Jon Fredricks is the grandson of Lawrence Welk, the television bandleader and host of "The Lawrence Welk Show" who founded the company in 1964. Fredricks became the third generation of his family to lead Welk Resorts in 2014 after serving as company president for 15 years.
Headquartered in San Marcos, Welk Resorts is majority family-owned and 12 percent employee-owned through an employee stock ownership plan. It operates six vacation resorts with a seventh under construction in Breckenridge, Colorado, which is expected to open in December.
The company's flagship property, Welk Resorts San Diego, is located on 450 acres east of the I-15 in Escondido. It includes two 18-hole golf courses, four swimming pools, a spa, theater, restaurants and more. Welk Resorts also counts vacation properties in Palm Springs and the Lake Tahoe area as well as Cabo San Lucas, Mexico and Branson, Missouri. It owns an undeveloped property on Kauai as well.
With an emphasis on destinations, accommodations and experiences, Welk Resorts has attracted 50,000 vacation owners and built a respected reputation as a leader in the timeshare industry. Timeshare exchange company RCI, which has access to 4,300 vacation resorts around the world, ranks three of Welk Resorts' properties among its top 100.
Welk Resorts recently rolled out the Experiences Collection, which allows its Platinum owners to exchange at no additional cost with 16 high-quality resorts that include Four Seasons Residences, Disney Vacation Club and other properties.
The company is involved in its communities, fundraising to help its Cabo San Lucas employees and their families rebuild after Hurricane Odile and contributing funding to The Lawrence Welk Family Foundation each year, which is overseen by Welk family members and provides annual grants to nonprofits that help families in need.

Where do you focus your marketing efforts?
Digital marketing is a growing focus for us because that's where consumers are doing their travel research and planning. Another strategy unique to Welk Resorts is our affiliate marketing relationships with major sporting, cultural and community events and venues. We have affiliations with AEG and LiveNation, venues like Petco Park and Red Rocks Amphitheatre, and teams like the Anaheim Angels, Golden State Warriors, and Dallas Cowboys. These are great environments for our outreach teams to meet people, learn more about the kinds of leisure and vacation activities they value, and give them an attractive and complimentary incentive to tour our property and learn more about vacation ownership with Welk Resorts. Not everyone who attends a presentation will decide to become an owner. It really depends on the way they prefer to vacation. But we find that once someone comes on property and learns about all of the vacation possibilities they can access through Welk Resorts, they see the value of becoming a vacation owner.
How does "ownership' at Welk differ from time share?
We have transitioned away from the fixed interval timeshare model to a points-based model that gives vacationers the flexibility and options they want. Our owners can exchange their points to book the Welk Resorts' destination, duration and accommodation of their choice. For instance, they can apply their points for a full week in a two-bedroom villa in Cabo San Lucas or split them up to include shorter stays in a studio suite at one of our Tahoe lodges plus a getaway to Palm Springs. We are always innovating exciting new vacation and travel products to enhance the vacation experience for our owners. Another example is our Owners At Sea cruises. Our first cruise event sold out earlier this year, and we're now planning our next one down the Mexican Riviera.
What does your partnership with RCI mean for Welk and for its customers?
RCI is a global timeshare exchange with a portfolio of 4,300 resorts in nearly 110 countries. While the majority of our owners choose to vacation at a Welk Resorts location, our high quality gives them greater flexibility when exchanging than with a standard timeshare experience. For instance, Welk Resorts owners can exchange with more than 1,000 RCI Gold Crown Resorts around the world and three Welk Resorts are listed in RCI's Registry Collection, which is an elite group of 100 signature vacation selections, including exclusive fine homes, private residence clubs, yacht clubs, and more.
Your properties have a nice diversity of locations. Was that planned or just a happy accident?
We began in 1964 when my grandfather bought a motel and nine-hole golf course in Escondido. You could call that first property a happy accident as he was supposed to be visiting the area to buy an orchard as an investment. He chose to invest instead in a place where he could bring his family and enjoy time together while getting away from the demands of work. As we've grown as a company, we've identified other destinations where our owners want to vacation with their families and loved ones. As a result, we now offer quality desert, mountain, forest and oceanfront accommodations in a variety of four-season destinations. We'll be opening our Breckenridge property in Colorado in a month or two. I'm excited to add it to our mix of destinations.
Is the company looking to acquire more properties?
Our focus has been developing our new Breckenridge property. We've also just started a major renovation to our Palm Springs resort. We own an undeveloped property in Poipu on the island of Kauai for future consideration. In the meantime, we've curated the Experiences Collection by Welk Resorts. This is a program which gives our Platinum owners the opportunity to exchange at no additional cost at 16 luxury vacation resorts in Hawaii, Arizona, Florida and beyond.
When it comes to locations, are they given an independence to act on service and/or business decisions?
All staff members are empowered to deliver what we call above-and-beyond service, which is one of our company core values — in addition to honesty and integrity, excellence, responsibility and transparency.
Each resort property has unique activities as well through our award-winning INSPIRED For You program. Owners can choose from dozens of activities for kids, adults or families every day. At Welk Resorts San Diego, for instance, that means things like escape rooms, Tai Chi by the lake, and sunset electric bike cruises. Seasonally, each resort features signature events like our annual Winter Wonderland in Escondido, which we expect will sell out again this December.
Anything else you'd like to share with us?
We see our purpose as bringing people together to enjoy shared experiences with those they care most about. We're happy when our owners are enjoying our swimming pools, golfing on our golf courses, or heading out the door with their skis and snowboards. Because this is our passion and purpose, we're also big proponents of regular vacationing. I fundamentally believe vacations strengthen family bonds, whether that's with your significant other, your kids or your extended family. I urge your readers to make sure that they're prioritizing time off for themselves and to make space and time for the people that matter most in their lives.