LEADERSHIP: DIVERSE PURSUITS ALL LEAD BACK TO GREAT WORK ETHIC
Restaurateur, Investor Thrives in Times of Change, Challenge
Sunday, December 8, 2019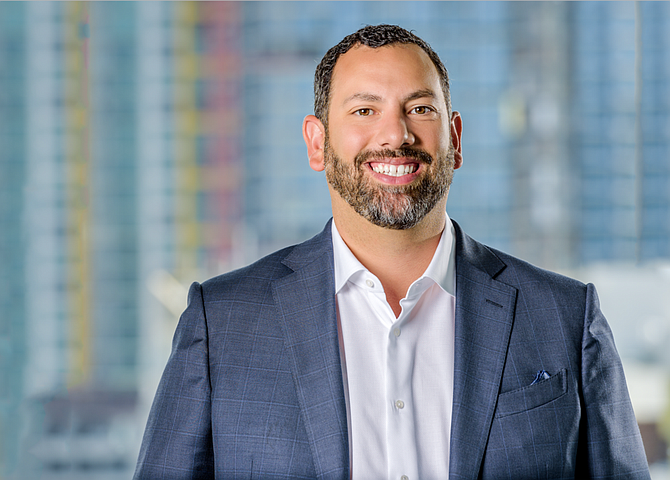 San Diego businessman James Langley wears many hats.
He's a real estate partner at LDG Commercial Real Estate. He's the founder and president of Empress Capital Investments. Under his Empress Family of Restaurants company, he owns and operates four San Diego restaurants: Madero's, Wokou Ramen and Yakitori, California Native and Leap Coffee. And, he's the co-founder and managing partner of Resident Brewing located inside the Local Eatery & Drinking Hole downtown.
With headquarters downtown and 82, soon to be 108 employees, Empress Capital Investments does roughly $5.5 million in gross revenue a year, said Langley, with forecast of reaching $7 million to $8 million in 2020. Gross revenue for all of Langley's businesses is $13.8 million with 167 total employees, according to the company.
Despite his hefty workload, Langley isn't slowing down anytime soon. The San Diego Business Journal caught up with the local business guru to chat about what keeps him motivated, the many ups and downs he's faced in running his businesses and what the future holds.
Tell me a bit about your background and how you got your start in hospitality?
Langley: I grew up in a small town outside of Northern California called Fort Ross and lived in a trailer with my mother and brother and stepfather. Without my father in my life, my brother and I had to step up to help support our mother. I was 12 years old when I got my first job: cleaning hotel rooms… I worked (whatever) jobs there were albeit logging, roofing and electrical — all of which were the most exhausting jobs I've ever had. My older brother Fred Langley pushed me to work in the kitchen at a restaurant around 13 years old, and, (that) was frankly much easier than my previous work.
How did that work out for you — switching gears to the restaurant industry?
For high school, I had to take a 2 ½ hour bus ride to school every morning at 5 a.m. I spent the day in class and then went to baseball/basketball practice for an hour or two afterward. I then made my way to work where I washed dishes, oftentimes not getting back home until midnight or sometimes 2 or 3 a.m., and then had to start all over at 5 a.m. to catch the bus to school. During my time as a dishwasher, I knew my skills could be applied in other ways, so I tried my best to learn from those around me. It was there where I learned just how important every single person's job is in the restaurant industry, from the person cleaning toilets to the executive chef.
What else did you learn from this experience?
I worked in the restaurant business for eight years, working my way up the ladder… I worked my way through high school and college, where I attended Point Loma Nazarene University, majoring in business administration… I credit my years bussing and waiting tables for helping me develop important life skills I now use every day, like how to read people and prioritize tasks.
Today, you wear many hats. What inspired you to become this multifaceted businessman?
Starting work at such a young age really instilled in me a desire and drive to be an entrepreneur and to create something for my family, a sort of legacy, that I didn't have growing up. But it certainly hasn't been easy.
How so?
When I got hired in commercial real estate, everyone told me I would be making six figures within two years. It took me seven. We started Resident Brewing Co. almost four years ago and it just got profitable. With Empress Capital Investments, and particularly the Empress Restaurants Family, we failed at almost every venue in the beginning.
What keeps you going despite these hardships?
To me, the best part about being a businessman is that it never stops changing, and I'm always learning from my businesses as well as those around me, but especially learning from my mistakes.
How did you fund your businesses?
The first investments were crowdfunded and my equity came through sweat equity. Luckily my partner Scott Dickson and I found success in our commercial real estate firm as well and pooled those sources together to fund other deals. As the success grew, I continued to reinvest, staying disciplined to never spend frivolously on myself. As we started to grow and decided to build Empress, I let close friends and family invest and borrowed additional funds from private sources to build. I currently hold roughly 82% of the ownership in Empress but it's from the support of my close friends that helped me build what we have today.
Walk me through the trajectory of your empire. How did you kick it off and when?
I started my career at Grubb & Ellis/BRE Commercial Real Estate, working on one of the largest retail leasing teams in the region. After leaving Grubb & Ellis, I continued my career in real estate by joining Schwartz Commercial Realty, now LDG Commercial Real Estate, in 2008.
And the food and beverage sector of your business… how and when did you become inspired to enter that industry again?
I was lucky to be involved with Mina Desiderio and Brendan Huffman from Social Syndicate to help purchase Nick's at the Beach in O.B. and P.B. Lucky for me, they let me tag along and help where I could in the development of Wonderland Ocean Pub and The Local Pacific Beach. From there, we rebuilt The Local Downtown and created Resident Brewing, which came from a home brew kit (my wife) Jenna Langley and I bought for her brother, Robert Masterson. From there, I invested in a few different real estate ventures as well as Breakfast Republic which is one of the fastest growing restaurant groups in San Diego (Rise & Shine Hospitality Group) by Johan Engman.
Empress Family of Restaurants officially came to be in 2017. Why not keep investing in restaurants instead of owning and operating them?
I originally built Empress to specifically be an investment group but realized quickly that no one will ever treat your investment dollars like you will treat your own investment dollars. We built Empress Family of Restaurants because we know how hard the restaurant business can be and it needs constant focus and attention to detail. I partnered with Restaurant Systems Pro which is the software and backbone of our company and the reason behind our constant growth.
What makes your restaurant
business successful on the
frontend?
The one thing I continually talk about with all my teams from the restaurants to the corporate team is the idea of family. We are here to build each other up, create places to work that people enjoy coming to and rally around team members in times of needs. I think that feeling is resonated throughout each of the Empress restaurants and that customers feel that when they come in. Of course, it helps that we have an operator like Joey Pena who works harder than any COO I have come across and amazing head chef in Chris Carriker, who recently joined us and has an incredible resume.
What has been the hardest part of running the restaurant business?
This has been, hands down, the hardest investment I have ever made and I absolutely love that. It challenges me every day and requires constant attention. (That said,) the hardest part is building trust with our customers. We care so much about our quality and service that we have group chats every single day about how we can be better. We stay humble to change and welcome today's changing standards of excellence because we strive to be the best. The hardest part is that I don't get to sit down with every customer to let them know that I really care about them and want our restaurants to be places that bring comfort and joy.
What do you have in the works in the near future?
We have lots in the works! We'll be opening a second Wokou location in P.B. in coming months and we recently acquired a coffee shop in Carlsbad called Leap Coffee and partnered with Jeff Fenster from Everbowl. But the thing I'm most excited about right now is using the Empress Family of Restaurants to bring communities together and help raise money for local schools and charities. One new initiative we're kicking off brought the first-ever annual elementary school parents party to Sunset Hills, a local community in San Diego. The school has never done a fundraiser like this and it was an honor to be able to contribute like that.