Canale Communications Acquired in Deal Worth up to $31M
Sunday, December 1, 2019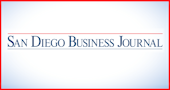 UGD Healthcare bought Canale Communications, a San Diego firm that specializes in strategy consulting for life sciences companies, it was announced Nov. 26.
Ireland-based UGD paid $20 million upfront, with an additional $11 million over three years tied to profit targets.
Carin Canale-Theakston, who founded the firm in 2010, will stay on as CEO.
"Our leadership team, brand and the day-to-day work will remain the same," she said in an email.
What will be different, Canale-Theakston said, is that Canale can access UGD's expertise and resources as Canale Communications takes on more late-stage clients. The firm's wheelhouse has been life sciences startups.
Canale does corporate communications, public relations and investor relations. It has 28 employees.