Neuroscience Research at Salk, UC San Diego Pulls in $3M Gift
Thursday, August 29, 2019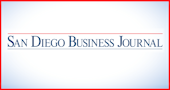 An institute dedicated to neuroscience research that's run by the Salk Institute for Biological Studies and UC San Diego has received a $3 million gift.
The Kavli Institute for Brain and Mind delves into human cognition, in an attempt to spark new therapies for neurological diseases or injuries. A joint operation, it combines the neuroscience firepower of Salk and UC San Diego.
The $3 million comes by way of the Los Angeles-based Kavli Foundation, its latest bid of support. The foundation established the institute through a $15.5 million endowment commitment.
Salk said it would match the $3 million gift, adding $6 million to the institute's endowment.
In addition, the Kavli Foundation gifted $300,000 to Kay Tye, who is a Salk professor probing the brain's circuitry to understand emotion and motivation. The research could fuel more targeted treatments for brain disorders like depression and anxiety.