SDBJ INSIDER
Come Out Curing at the Bell
Thursday, August 29, 2019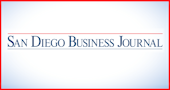 Lineage Cell Therapeutics took some time out for something that always looks like it would be a lot of fun — not to mention it puts you in the same ranks as Muhammad Ali who did it in 1999.
Lineage, whose stock symbol just changed to LCTX, rang The Opening Bell on the New York Stock Exchange to celebrate the launch of its corporate re-branding. CEO Brian Culley did the honors.
Lineage just changed its name from BioTime and moved its headquarters from Alameda to Carlsbad following a recent corporate restructuring. The company said it works by replacing or supporting cells that are either missing or dysfunctional.
Lineage has 3 cell products in trials as reported by SDBJ's Jared Whitlock.
* * *
PriceSmart Inc. is another great San Diego business story. Sol Price pioneered the warehouse club store with FedMart and later — along with his son Robert Price — the Price Club stores which eventually sold to Costco. Having kept the international division, the Prices simply built another retail empire this time focusing on Latin America and the Caribbean.
That building is still going strong today.
The San Diego-headquartered PriceSmart announced that it acquired approximately 111,000 square feet of land in Colombia for what is planned to be the company's 47th warehouse club store. This club will be located within Bogota.
"Securing our third location in the Bogota metropolitan area underscores our commitment to growth in this important market," said Sherry Bahrambeygui, CEO of PriceSmart Inc. "The 170th Street Bogota Club will be the 8th club in Colombia and the fourth under development, including clubs in Guatemala, Panama, and Costa Rica,"
The new location is expected to open in the fall of 2020, the company said.
PriceSmart operates 43 warehouse clubs and has plans to open four more warehouse clubs, the company said.
PriceSmart is expanding its omni-channel capabilities, including through its e-commerce platform, by investing in and integrating the technology, talent and cross-border logistics infrastructure, according to the company.