Biocom Adds 3 Board Members
Thursday, August 29, 2019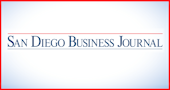 Biocom appointed three new board members, the life sciences trade group announced Aug. 26.
They are:
• Judy Chou, senior vice president and global head of Bayer biotech;
• Emad Fareed, partner at KPMG; and
• Bob Ramos, partner at Procopio
Based in San Diego, Biocom has additional offices in Los Angeles and the Bay Area, with satellite offices in Washington, D.C. and Tokyo. The trade group says it has 1,200 members.