PROPERTY: DEVELOPER AIMED HIGH, HITS THE MARK WITH APARTMENT TOWERS
Taking Up Residence
Wednesday, August 28, 2019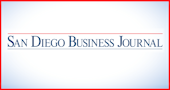 Walk up to the nearly floor-to-ceiling windows or step out onto a balcony.
That is the amenity that sells — a sweeping view of everything from San Diego Bay to Balboa Park and points north.
Joining its sister building Pinnacle on the Park in looming over East Village and the rest of downtown San Diego at 520 feet tall, Pinnacle International's Spire San Diego is wrapping up construction and is already lining up tenants.
"The views really are our number one amenity. Being in the tallest high-rise in San Diego, there's really no compromise here," said Dennis La Salle, development manager of developer Pinnacle International of Vancouver, Canada. "You can start seeing really nice views on level 10. The higher you go, the better the view."
45 Stories
Spire — formerly called Pinnacle on the Park Phase Two — stands tall at 1475 Island Ave. with 45 stories of apartments.
If its height wasn't enough for Spire to stand out among San Diego's growing collection of luxury apartment towers, the reddish-orange vertical stripes on the building façade make it hard to miss, similar to the yellow stripes that run up the façade of Pinnacle on the Park.
La Salle declined to say how much it costs to build Spire.
The two apartment towers are similar in appearance inside and out, although some of the finishes in Spire have been upgraded.
Kitchen countertops in Spire, for instance, are quartz instead of the granite countertops in Pinnacle on the Park, which was completed in 2015.
The two buildings are connected to each other and share a number of amenities, including a lap pool and hot tub, a business center, a game and casino room, a fitness center and yoga room, a video screening room and an outdoor grilling area.
The two also overlook the 1.3 acre Fault Line Park at 1433 Island Ave. that Pinnacle International built in 2015 as a public park.
The park is directly over the Rose Canyon Fault, hence its name, and a walkway through the middle of the park symbolically marks the fault line.
A Nearby Dining Option
Although not part of the apartment project, an added amenity of sorts is Amplified Ale Works restaurant at the northwest corner of the park.
With 472 apartments, Spire is the latest and one of the biggest downtown apartment towers to come onto a market that has slowed somewhat from the heady days immediately following the Great Recession of 2007-2009 when apartments were being leased at a pace of 35 to 40 a month in some buildings, said Kevin Mulhern, a senior vice president with the commercial real estate brokerage CBRE.
The leasing rate has slowed to about 20 to 25 a month per building, which is about the historical norm, Mulhern said, and developers are offering more concessions to entice prospective tenants.
"We're probably at the peak this year and next year of the deliveries in the development cycle downtown," Mulhern said.
Market 'Generally Still Strong'
Even so, Mulhern said the apartment market "is generally still strong."
"The demand is there. These projects will all get leased up and obviously, the pipeline will thin out. Two or three years down the road, we're not going to see nearly the number of deliveries we see today. That will give the market a chance to catch up," Mulhern said.
La Salle said Pinnacle at the Park is about 97 percent leased and interest has been strong in Spire.
The apartments in Spire range from 630 square feet to 1,430 square feet with four penthouse apartments of 1,920 square feet. Monthly rents at Spire range from $2,000 to $12,000.
Monthly rents at Pinnacle on the Park are slightly lower, ranging from $2,000 to $10,000.
Every apartment at Spire has GE stainless steel appliances, including washers and dryers and kitchen cabinets imported from Italy, La Salle said, adding that those on the upper levels have upgraded finishes and appliances including wall ovens.
Four penthouse apartments have two levels and include a large outdoor deck.
The building includes a five-level below-ground parking garage with 1,089 spaces.
Marketing to Everyone
The project wasn't geared toward any particular demographic, according to La Salle, although renters in other downtown apartment buildings have skewed toward people in their late 20s to late 30s — the so-called millennials.
"We try to market to everybody," La Salle said.
With Pinnacle on the Park, Pinnacle International was among the first developers in what has become a building boom in East Village.
"When we built Pinnacle on the Park, there was nobody else around," La Salle said. "Now, there's definitely a lot of buildings around us."