FINANCE: COS. GET NEEDED EXPERIENCE
Fractional CFOs Can Be Big Asset
Wednesday, August 28, 2019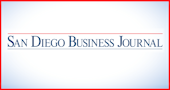 Every business needs a bookkeeper, but at a certain point, growing companies need help that goes beyond day-to-day finances. As they wrangle their growing cash flow, startups and midsize companies encounter a new obstacle: they still don't have enough funds on hand to hire a full-time chief financial officer.
This is where a fractional CFO can help fill the gap. And in San Diego, business is booming for part-time accounting and CFO services.
Signature Analytics, a San Diego-based firm that offers fractional CFO services and outsourced accounting, opened its fourth office this year, in Glendale. The company was founded in 2011, and has since grown to 88 employees, with offices in San Diego, Orange County and Los Angeles.
'Taking Off at All Levels'
"We're in growth mode throughout Southern California," CEO Peter Heald said.
A couple of factors are driving Signature Analytics' growth. For one, companies are warming up to the idea of bringing on fractional CFOs and other key roles.
"The fractional service industry has grown significantly," Heald said. "Now, you can go out and get a fractional chief marketing officer, head of sales … it's taking off at all levels."
On other occasions, gaps in a company's workforce can drive them to turn to fractional CFO services. With more turnover in a hot job market, companies are faced with a challenge when a controller leaves and they need to replace that position.
San Diego in particular is "ground zero for outsourced accounting," Heald said, with few Fortune 500 companies but several middle-market companies that are looking to grow.
"A lot of those businesses here that are trying to compete regionally, nationally or globally are looking for expertise to support their growth," he said.
Signature Analytics targets companies that make between $5 and $75 million in revenue. That can include late-stage startups, as well as several midsize companies.
Founder Jason Kruger said he started the business as he saw an overall need for better accounting services for small and midmarket companies, which might have trouble affording sophisticated accounting services or their CEO might not have a background in accounting.
Cash Flow Clarity
"We give them more clarity and visibility into what their cash flow needs will be. … Clarity into your cash flow is critical," he said. "A number of companies look at accounting and finance as a necessary evil. What we want to do is allow the accounting and finance function to be of value to their business."
Finance for Startups
Tyler Jensen, founder of The Startup Garage, has a slightly different business model. He works with earlier-stage companies that have between $1 million and $20 million in revenue, providing assistance with raising capital, building investor packages, and helping them manage their cash flow.
Many of the challenges they encounter stem from their startups' fast rates of growth. For example, a company that receives a larger-than-expected order for a product is then faced with the cost of manufacturing it, or potentially turning down hard-earned customers.
You Can't Just Look at a Bank Account
"They were able to manage cash flow just from looking at their bank account. But at a certain size, you just can't do that anymore," Jensen said. "Growing too fast without proper capitalization can put you out of business."
Lately, Jensen said he's seen plenty of demand for his work. He chalks it up in part to a booming economy with lots of growing businesses.
"I'm slammed right now,'" he said. "At least from my perspective, things are going really well. There's a lot of demand for fractional CFOs."

Jensen started the business after exiting his previous company, intermural sports business VAVi Sport and Social Club. He ran the company for nearly six years before selling it for well above its initial investment.
Even though he did well, he thought he could have sold it for more if he had a better grasp of finance at the time.
"I probably have added another zero on if I had understood finance," he said. "I decided I wanted to learn startup finance."
Jensen sought out a mentor, who had previously served as a CFO, and taught him how to manage finances for an early-stage company. To date, Jensen has worked with about 250 companies.
"You hit three-quarters of a million to a million in revenue, and all of a sudden, you think, 'oh no, what do I do now? I can't keep up with this,'" he said. "That's when I see these companies reaching out to me."
Growing Complexity
James Wheeler started his fractional CFO business, Narrative Financial Management, two year ago. He had previously served as a full-time CFO for a publicly-traded company's U.S. subsidiaries, and when they sold, he began looking for another position.
Wheeler realized he enjoyed working with multiple companies, and also saw value in his role as an outside adviser. As a fractional CFO, he no longer has a personal stake if a company is seeking a merger or another major change.
"I think there is innate value in candid advice or honest advice," he said. "I have an opportunity to be creative in how I envision the future. When you do away with that constraint, I think there's a significant opportunity."
Wheeler primarily works with companies that make less than $50 million in revenue. He said he has seen a growing demand for his and his colleagues' services, as the business environment becomes increasingly complex.
Some of that is chalked up to tax law, but it can also stem from how a company chooses to do business. For example, a technology firm may choose to hire a distributed workforce to bring in the best talent, but that also make its finances more complex. And when that company starts bringing in revenues of $5 million to $15 million, wrangling tax and employment law can take a chunk out of the business.
"If you hire a developer in New Jersey, someone in Michigan and someone in Arizona, the multijurisdictional compliance issues around tax and employment law end up being material to your business," he said. "Changing technology, the competitive landscape, the capital landscape — there's really a lot to it."