RETAIL: SELF-PROMOTION GOT PRODUCT IN SPOTLIGHT
CEO Spreads the Word on NuttZo
Wednesday, August 28, 2019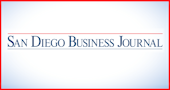 NuttZo LLC is sold in 10,000 stores nationwide, including Whole Foods Market, Costco Wholesale, Sprouts Farmers Market, Kroger, Walmart and Jimbo's, according to Danielle Dietz-Livolsi, its founder and CEO. Launched in 2008, the company is headquartered in Del Mar and has approximately nine employees. Available in four flavor profiles — Peanut Pro, Power Fuel, Chocolate Power Fuel and Keto Nut & Seed Butter — NuttZo's revenue is currently seven-figures and is projected to grow an additional 35% in 2019, according to Dietz-Livolsi.
The nut butter's journey from kitchen to big-box grocers is a tale of entrepreneurship, timing and — yes — love.
Meal time used to be hard for Dietz-Livolsi and her son.
In 2002, Dietz-Livolsi adopted the 3-year-old from an orphanage in the Ukraine. At very low weight and height and with the body equivalent to that of an 18-month-old, the little boy had difficulty chewing and swallowing textured foods, specifically proteins like meat. That's when Dietz-Livolsi had the idea to create a nut butter with various nuts and seeds that would give her child something he could enjoy while supplying him with some of the necessary vitamins and nutrients.
While Dietz-Livolsi was creating the nut butter at home for her kids (she already had a daughter when she adopted her son and adopted a second son from the Ukraine in 2005) for years, it wasn't until her husband, fed up with the amount of dishes he had to do post-nut-butter-making, asked her why she wouldn't just buy the stuff premade from grocery stores.
"Because you can't," was her response, and also her aha moment. Knowing nothing like NuttZo existed in the market at the time, Dietz-Livolsi decided to quit her job selling advertising for San Diego's KFMB radio station, take money from her own savings and go full-force with her additive-free and preservative-free homemade recipe with no added sugar or palm oil.
"It doesn't take a ton of money to start a food company," said Dietz-Livolsi. "We weren't rolling it out nationwide in Whole Foods or anything like that, and we didn't do farmers markets. We grew slowly in the natural food sector first, and, by the first year, we were in 20 to 40 stores. It was a very slow growth."
Paula Peter, marketing professor at San Diego State University, believes the growth of brands like NuttZo is a testament to today's consumer being very health conscious.
More Educated in Food, Nutrition
"We are becoming more and more educated, generally speaking, in food and nutrition," said Peter, specifically referring to millennials and Generation Z. "They are very health-centric," she said, "and are really focused on their health, more so than the previous generations, and this is mostly because of technological advances and how we share information. As a result, there is an influx of products that are very health-focused and the consumer is more willing to pay a higher price for that."
Peter adds that Dietz-Livolsi also entered the market at the right time with the right product, stating that she most likely doesn't have much competition in the nut butter department and can certainly capitalize on that right now.
Making the Move to Co-Packer
To get things going, Dietz-Livolsi first found a manufacturing facility, or a co-packer, in Fresno that was willing to do small batches for her. And, she fine-tuned her creation through taste tests with family and friends, a process that took a couple of months. Dietz-Livolsi said she never followed a recipe, she just knew the nut butter had to taste good. And, even during the first manufacturing run, she said she had to tweak the butter on the spot to make sure the flavor was just right.
Dietz-Livolsi launched with a crunchy peanut flavor called Peanut Pro and, when consumers started to request a non-peanut-based butter, she introduced the Power Fuel iteration almost two years later.
Making the Sales
To promote the butters, Dietz-Livolsi would attend local events, like 5K runs and marathons and other sporting and health-focused affairs, and would give out samples. In 2009, Dietz-Livolsi landed her first contract, with Jimbo's. Later that same year, she got into Whole Foods. In 2011, after sending multiple emails and mailing him a box of nut butter samples, Dietz-Livolsi got her NuttZo product on the "Dr. Oz Show." In 2014, NuttZo began selling in Costco's, first in the San Diego region, then Texas, then the northwest region and then the Midwest.
NuttZo works with three manufacturing facilities, one that handles the non-peanut production, another that does the peanut-based stuff and a third facility in upstate New York that makes all of the Bold Bitez bars, which are basically the nut recipes in a bar form with no preservatives or emulsifiers.
"They are fresh, on-the-go snacks that need refrigeration to keep the freshness," said Dietz-Livolsi about the bars, adding that they all have additional functionalities like collagen, matcha and probiotics. "It's the way of the future; consumers are all busy and they want stuff that is healthy, fresh and convenient."
Dietz-Livolsi, who graduated from Fordham University in New York City with a bachelor's of science degree in business, said she sources all of her nuts and seeds from all over the world, including from Peru.
Over a decade since inception, NuttZo continues to grow, according to Dietz-Livolsi. She said this past year, the company has expanded its staff count in order to decrease outsourcing, including hiring two more people in sales and one in production.
"Being authentic has been so important," said Dietz-Livolsi about the company's growth. "This all started, for me, because I was trying to solve a problem as a mom. You have to be passionate and do it for the right reasons."