Teradata Hires Former Fortive Exec for New Role
Tuesday, August 27, 2019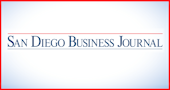 San Diego-based Teradata Corp. hired an executive to head up a new role. Bob Joyce will serve as executive vice president of Teradata Business Systems, a new function within the company that is tasked with improving Teradata's operations and tracking key metrics for the company.
Joyce previously worked for Fortive Corporation, where he managed five companies as group president. Before Fortive was spun out of Washington D.C.-based conglomerate Danaher Corp., Joyce helped create the Danaher Business System, the business model Danaher used to improve and grow companies after acquiring them.
In his new role, Joyce will report directly to Teradata CEO Oliver Ratzesberger.
"In Bob, we are adding a leader for Teradata Business Systems with fundamental experience driving an organization to be lean, efficient and agile, with a mindset for continuous improvement and growth," Ratzesberger said in a news release. "This hire, and the establishment of a world-class business system, is absolutely critical to our company strategy."
Joyce isn't the only new hire Teradata has made since naming Ratzesberger as CEO in January. The company hired a new chief revenue officer, Scott Brown, in June, and named Kathy Cullen-Cote as new chief human resources officer in July.
"Teradata is in the midst of a truly bold transformation to a cloud first subscription model and I'm excited to contribute," Joyce said in a news release. "The market landscape is changing every day and I believe that the companies – like Teradata – who focus on and invest in continuous improvement will have a significant competitive advantage."