Joint Venture of Stos, Long Wharf Acquire Two Buildings
Tuesday, August 27, 2019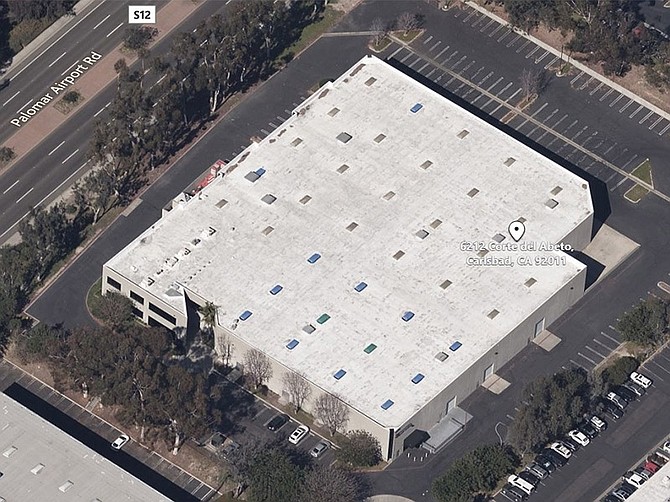 Stos Partners of Encinitas in a joint venture with Long Wharf Capital acquired a Miramar industrial building that others had passed up because it had been vacant and was in need of extensive repairs.
The two firms in a joint venture also acquired a more typical industrial building in Carlsbad.
Jason Richards, a partner at Stos, said the Miramar location made the 27,510 square-foot building at 8330 Arjons Drive a good buy at $4.2 million.
"While the building is in need of repair, the bones of the property and concrete tilt-up construction still retain significant value," Richards said. "With the ever-growing costs of construction, regulatory time requirements and hurdles to development, it is still economically advantageous to rehabilitate and reposition these types of assets as opposed to starting from scratch."
Stos expects to spend about $500,000 on repairs that will include a new roof, fixing windows, an upgraded façade, redoing the landscaping and resurfacing the parking lot.
Repositioning Property
The building was used for medical research and development but was vacant for many years.
"Improved buildings of this size are in high demand and are difficult to come by, giving our team a unique opportunity to create value," Richards said. "The capital upgrades we are planning will enable us to reposition this property and realize the strong industrial tenant demand in this region."
The 70,224 square-foot Carlsbad building acquired by Stos Partners and Long Wharf Capital for $9.7 million is fully leased to a go-kart racing tenant.
Jay Boyle, executive vice president of Stos Partners, said the property "provides a unique combination of secure in-place cash flow," adding that the building is "a highly functional asset for current or other industrial uses in the future."
Minor Upgrades on Second Property
Unlike the Miramar property, the Carlsbad property needs only "minor upgrades and maintenance," Richards said.
"Upon expiration of the current lease, our plan is to renew the tenant, lease the property at market rents, or sell to an owner/user," Richards said. "Once the property is stabilized, we will then decide whether to sell or retain the property further."
Stos Partners has made a flurry of recent investments, including a 21,200 square-foot building the firm bought in Kearny Mesas for nearly $7 million, a 37,882 square-foot building the firm bought in Miramar for $6.3 million and a 53,601 square-foot building it bought in Otay Mesa for $6.1 million.
The firm also acquired a 65,315 square-foot industrial building in Temecula for $7.1 million.