Ionis Pharmaceuticals Eligible for up to $262M in Licensing Deal
Tuesday, August 27, 2019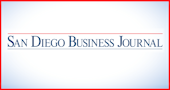 Ionis Pharmaceuticals netted a $25 million licensing fee from pharmaceutical GlaxoSmithKline, with the potential for bigger bucks.
Major pharmaceutical GlaxoSmithKline opted to pick up the rights to Ionis' hepatitis medicines following positive mid-stage clinical trial results. Under the deal Carlsbad's Ionis is eligible for up for to $262 million in milestone payments.
In addition, Ionis could pull in sales royalties, assuming the drug candidate passes eventually muster with the U.S. Food and Drug Administration. GlaxoSmithKline will take over development, regulatory activities and commercialization.
Ionis and GlaxoSmithKline are targeting chronic hepatitis B infection, which can lead to cirrhosis, liver failure and liver cancer. It affects more than 200 million people worldwide, but even with treatment some patients don't stay in disease remission.

Ionis believes its antisense technology – which binds to RNA instead of proteins – could disrupt the disease.
"By targeting the root cause of CHB-related liver disease, our antisense technology can potentially deliver a transformative medicine," said Brett Monia, chief operating officer at Ionis, in a statement.
Monia added GlaxoSmithKline's development and commercialization experience makes the pharmaceutical an ideal partner. The companies have long-standing ties.
Under a 2010 deal GlaxoSmithKline gained the option to license six Ionis programs once they reach proof-of-concept in phase 2 clinical trials.
But two years ago GlaxoSmithKline passed on two Ionis drugs. One of them, tegsedi, received approval last year to treat a debilitating rare genetic disease called transthyretin amyloidosis, or ATTR.
The other program, Ionis-FB-LR, is geared toward an advanced stage of age-related macular degeneration, a common eye condition that causes vision loss.
In 2018, pharmaceutical Roche gained the option to license Ionis-FB-LR. It paid Ionis $75 million upfront, with the potential for an additional $684 million in regulatory, sales milestone and licensing payments.
As part of the pact Ionis will run a phase 2 trial of the therapy, after which Roche will decide whether to license it. If Roche opts to do so, it would handle commercialization.

Founded in 1989, Ionis became a force in three years ago with release of its drug spinraza to treat spinal muscular atrophy in infants.